Q-talk 92 - Featured Pilot - Tom Moore
Details

Category: Q-Talk Articles
Published: Wednesday, 23 December 2009 16:24
Written by Dave Richardson
Hits: 2047
Tom Moore Frisco, TX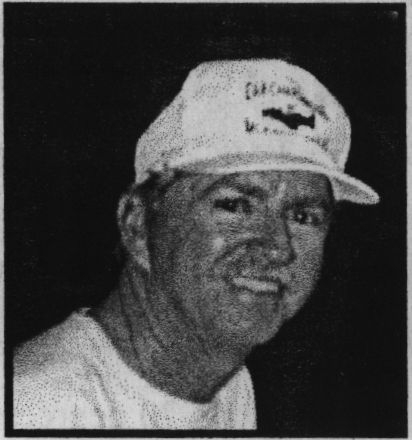 The "Need for Speed" showed up in Tom at an early age. Growing up in the west Texas town of El Paso, Tom enjoyed riding motorcycles in the desert with his buddies. He later raced on flat tracks and rectangular pit tracks with steeply ramped walls.
After high school, Tom took a job as a motorcycle mechanic out of state. Then feeling a greater call, Tom returned to Texas, joined the Army and became a helicopter mechanic at Fort Hood. He soon learned that the Army would reimburse 75% of an after-hour college education. A 2 year and 4 year career pilot program at a nearby state college really appealed to him. Tom soon earned his Associates degree in Career Pilot. Realizing the opportunity, Tom continued toward his 4-year degree in Aviation Management as well as his Commercial, Instrument and CFII ratings. His Army supervisors were very supportive of his schooling and would allow Tom to leave his duties early two days a week for flight lessons. When Tom left the Army, he continued his work toward his 4-year degree using the GI Bill. He fondly remembers the days after the Army as the most carefree time of his life, despite the lack of funds. Tom laughingly admits he often survived by removing the 4 for a dollar burrito and hot dog coupons from his neighbors' newspapers.
Once Tom graduated from college, he got a job in Dallas for a freight company, flying bank documents at night. That really helped Tom's cross country and night flying skills. He also worked briefly for a radio station doing the Dallas Traffic Watch. All the air vents in the plane had to be closed during the radio announcements to provide a clearer transmission and the temperatures in the cockpit would really soar in the hot August skies. They also had to fly at very low altitudes in bumpy air It was a boring job and the only one in aviation that Tom hated.
Tom moved on to Meacham Field in Fort Worth where he was a flight instructor for mostly international students. This was an eye-opening experience for him as he learned about different cultures beyond his Texas experience. Tom eventually earned his ATP/ME ratings and had about 2100 hrs. Fierce competition for aviation jobs led Tom to "re-tool" and learn another field. He chose electronics and currently works for a large telecommunications company based out of France. They make devices used by the Bell's, MCI, Sprint and other telephone companies. Tom troubleshoots problems across the US, Canada and Puerto Rico.
Tom first learned about the Quickie design when he saw the Q200 on the cover of Sport Aviation. He read the very up
beat article and decided it would be a good, high-speed crosscountry plane with great looks. He was able to locate a project in Indiana that had all the Q200 parts included. Tom worked four years in a 1 -Vi car garage on the plane's finish, cockpit and firewall forward components. He later moved to a home with a two-car garage, allowing him to finally put on both the tail section and the engine. Tom felt at home with the engine installation due to his motorcycle and helicopter experience.
Tom called builders in his area and struck up an immediate friendship with Bob Malechek, who mentored him through the building process. Tom remembers floating some real wild-eyed ideas past Bob in the beginning but Bob was always tolerant. He raised the bar for quality workmanship and Tom had to work hard to keep up. He made several suggestions about the 0-200 engine Tom was going to use and at first, all Tom heard was dollar signs. Bob introduced Tom to an elderly aircraft mechanic who gave Tom a tip when it comes to cutting corners on the work. He said, "You know, you've got to ask yourself one question. How much is your ass worth?" That cinched it for Tom and he decided to follow Bob's recommendations. With his newfound realization, Tom elected to also follow a tip found in Q-Talk from Sam Hoskins to buy new cylinders. Sam pointed out that since there are no logs on cylinders, you could not get a real history on these parts. Tom purchased the new Millennium cylinders and has been very pleased with the results.
Tom recalled that with 25.4 hours on his plane, he and Bob left for Tom's first flight to Ottawa. He really felt like he graduated. The cross-country trip gave Tom a chance to appreciate the plane and pay attention to the details.
When Tom and Bob flew to Sun 'n Fun the next year and Tom was on short final, the tower called out twice, "Lower your nose gear!" Tom ignored the calls and then heard as he was taxing out, "I've just been informed you are a Quickie."
One modification Tom made to his plane was an auxiliary fuel tank in the bottom of the baggage area. The previous builders were very tall and reduced the size of the main tank in an attempt to increase headroom. He was left with only 12 gallons in the main tank, which limited his cross country range. The new auxiliary tank added 11 gallons of fuel. Tom, however, does not even count the fuel in the header tank when calculating fuel requirements for a cross country. He said wisely, "That fuel is sacred. It's somebody else's. That's my reserve." Tom also added an auto pilot and lateral trim on the elevator to help with those long cross country flights.
Tom has been very active in the QBA. He served as Q-Talk's editor for 6 years and many of us are still inspired by his final line; "Keep building, it's worth it." The QBA is proud to count Tom as one of its own.
---
You can order a printed copy of Q-talk #92 by using the Q-talk Back Issue Order Page.