Q-talk 154 - Air and Space - No Update!
Details

Category: Q-Talk Articles
Published: Monday, 27 August 2012 11:45
Written by Dan Yager
Hits: 4024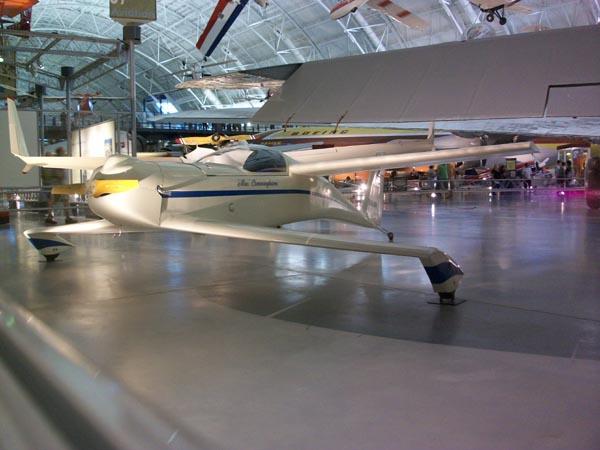 A couple of years ago I wrote an article about my trip out to see the Quickie at the Steven F. Udvar-Hazy Center of the Smithsonian Air and Space Museum.  Doug humble suggested, in the comments of that article, that I reach out to the curator of the museum to get the signage for the Quickie corrected.
Shortly after the article was published, I reached out to the museum to see what could be done about the sign.  I was assured in a reply e-mail that it would be taken care of.  Well here we are two years later, and not much has changed.  I took some photos during my most recent trip to the museum last week, and you can see that that they still have the same sign up.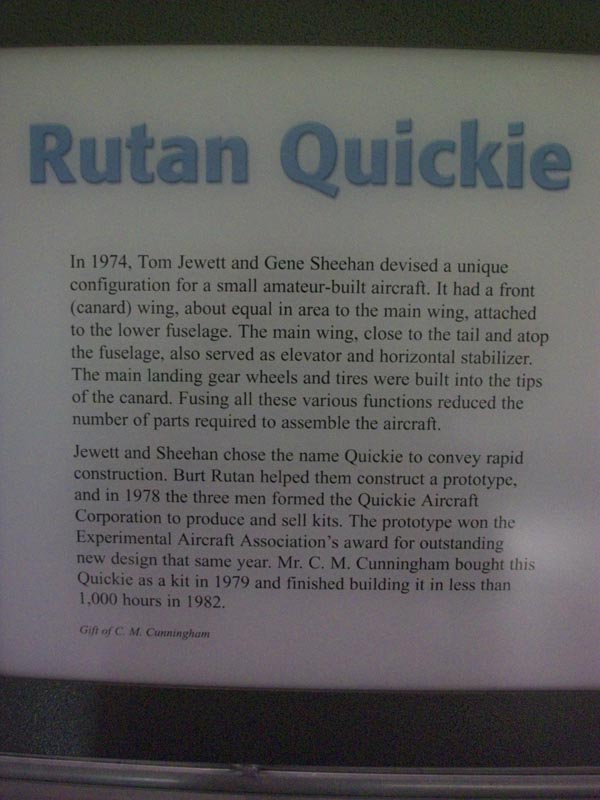 Again, the sign contains a few errors.  First, Burt Rutan designed the plane, and Tom Jewett and Gene Sheehan produced and marketed the kits.  The sign also states that the elevator is on the main wing, when all of us Q guys know it's actually on the canard.  Finally, the photo on the sign is of a Q2 with a UK registration.
I guess I'll need to be a little more adamant.  Perhaps I can find an online petition plug-in for this website and I can have you all sign it.  Stay tuned for that in a future newsletter!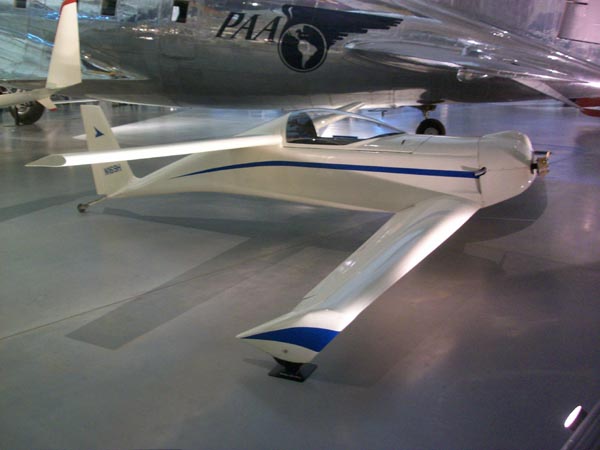 (The text of the erroneous sign appears below.)
Rutan Quickie
In 1974, Tom Jewett and Gene Sheehan devised a unique configuration for a small amateur-built aircraft. It had a front (canard) wing, about equal in area to the main wing, attached to the lower fuselage. The main wing, close to the tail and atop the fuselage, also served as elevator and horizontal stabilizer. The main landing gear wheels and tires were built into the tips of the canard. Fusing all of these various functions reduced the number of parts required to assemble the aircraft.
Jewett and Sheehan chose the name Quickie to convey rapid construction. Burt Rutan helped them construct a prototype, and in 1978 the three men formed the Quickie Aircraft Corporation to produce and sell kits. The prototype won the Experimental Aircraft Association's award for outstanding new design that same year. Mr. C. M. Cunningham bought this Quickie as a kit in 1979 and finished building it in less than 1,000 hours in 1982.
Gift of C. M. Cunningham
| | |
| --- | --- |
| Wingspan: | |
| Length: | |
| Height: | |
| Weight, empty: | |
| Weight, gross: | |
| Engine: | |
| Kit Manufacturer: | Quickie Aircraft Corp., Mojave, Calif. |
| Builder: | |
|   | |