Q-talk 27 - ODDS and ENDS
Details

Category: Q-Talk Articles
Published: Sunday, 30 June 1991 07:11
Written by Jim Masal
Hits: 1682
I was notified by wife Jenette that LeRoy Bain, a QBAer who built and flew his Quickie around the Mobile, AL area died on April 1 of natural causes. He was with us since the very early days of QUICKTALK and always kept in touch. I'll miss him.
TIRES - A half dozen guys talked to me this past year about needing those original knobby tires for their Q-2's (I think they are Chinon's?). Here's an area in which we sorely need some help. No one has a present source. I know guys are getting replacements from other guys who have Tri-Q's but does anybody know of a source for these, or better yet, an equivalent tire? Lamb tires fit but are smaller in diameter so that your wheelpant will sit closer to the ground if you change over. If any of you have unused originals sitting around, tell me what you want and I'll buy 'em and stockpile some for desperate fliers.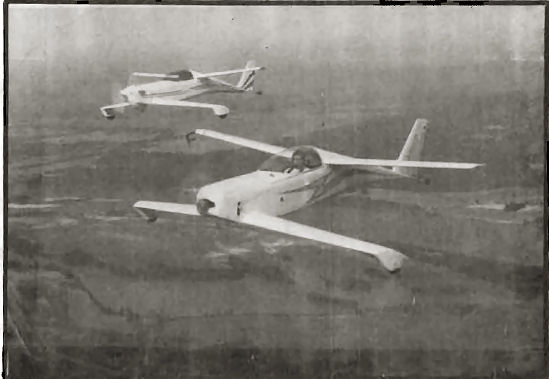 Homsley can't get enough of the Quickie. He owns both of these (in Onan and Rotax denominations). He'd fly both at once if he could but here he graciously consents to let Howell fly wingman in his former steed!
---
You can order a PDF or printed copy of Q-talk #27 by using the Q-talk Back Issue Order Page.