Q-talk 48 - CLASSIFIEDS
Details

Category: Q-Talk Articles
Published: Monday, 31 October 1994 06:11
Written by Jim Masal
Hits: 2006
FOR SALE: Tri-Q. Fresh O'haul on Cont O-200 by certified mechanic. Airframe 95% complete, std. instrument panel, starter & Gen electric system. $14,000. Have trailer to haul it on. Jack Dempsey (318) 334-3679 Louisiana 7-9 pm.
Parting out my Quickie powerplant: Rotax 503, dual CDI, dual carbs, 3-blade, white, adjustable carbon Ivoprop, engine mount and instruments. 30 hrs TT, runs great, bolt to your Quickie and go. $3,000. (504) 362-2168.
Q2, TTAF 250 hrs. C-85-6, 14 hrs SMOH. Carbon spars, reflexor, roll trim, $9,000 OBO. Also Q2 kit, major parts, materials, plans, spars, fiberglass, etc. $2,000 OBO. Call (408) 373-0961.
FOR SALE: Quickie single place. See pictures in issues 15 and 41. Airframe approx. 220 hrs. 503 Rotax approx. 160 hrs. Ph (303) 451-5353. Howard Hardy
For Sale: Q-2 kit & Revmaster engine. Started in 82 finished 75% then stored parts in different places. Canard was destroyed in earthquake, the rest in good condition. Priced for quick sale $3,000. Mike Hopewell after Jan. 1 (909) 338-1403.
WANTED: Finished LS-1 canard for Q1, or old design with VG's & completed rear wing, & Rotax engine w/cruise prop. New builder would like to expedite flying. Alan Thayer, 4807-112 Proctor Road, Castro Valley, CA 94546 (510) 582-7274.
FOR SALE: Q-200, 150 TTAF, 250 since major O/H, flew great, 170 cruise. Flew twice to S&F. Have removed main fuel tank. Only needs a new tank, w/b, and recertification. Good trailer no plates or lights. Make offer. S E Alabama (205) 347-7665.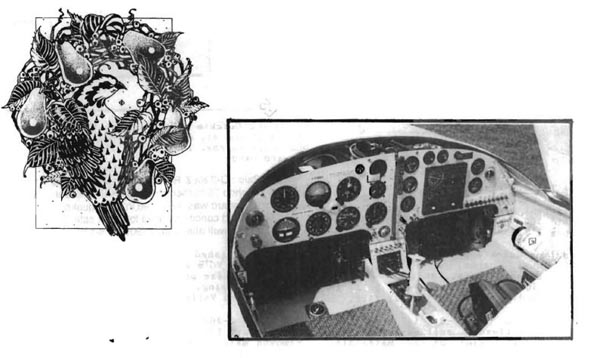 ---
You can order a PDF or printed copy of Q-talk #48 by using the Q-talk Back Issue Order Page.