Q-talk 31 - CLASSIFIEDS
Details

Category: Q-Talk Articles
Published: Tuesday, 31 December 1991 06:11
Written by Tom Moore
Hits: 2153
A current member may have one free Ad per issue. It may be a maximum of 5 lines of my type and will be edited to fit space available. If you want to take up more space, call me for rates. Free advertising is a courtesy and this is not Trade-a-Plane. Items advertised must be for or owned by the member. The Ad contact must be a member name. Company names mean a commercial Ad at QBA current rates. Write for info. Members may not repeat an Ad unless they send me a request for each issue. Record keeping or special requests will not be provided for free. Insertion of a free Ad for a specified issue is not guaranteed. (Your money back if it doesn't get in.) Non-members may place an Ad at current QBA rates.
FOR SALE: Q-2, 65TT, Rev 2100D, VFR NavCom, Txp., T-tail, reflexor, above average in and out. No bad habits. $12,500/trade. Les Robinson, 510 N. Broadway, Peru, IN 46970. Call (317) 472-1664. 2 Cheng Shin tires and tubes - $25. IN
WANTED: Quickie (single) LS-1 carbon tube spars for reasonable price! Robert Kluge, Steppachweg 4, D-8300 Landshut, GERMANY
WANTED: Plans, patterns, info, etc. to convert Q2 to Q200. Ron Wyers, S60, C56, RR3, Winfield, B.C. CANADA V0H 2C0. Call (604) 766-5585.
FOR SALE: Tri-Q, C-85, 170 TTAE, LS-1 Canard, NavCom, Encoder, reflexor, no problem in rain. $14,500, Houston, Call (409) 321-3486 TX
WANTED: 2 tires and tubes, 4.00x5 Cheng Shin, 4 ply. Igor Mokrys, 416 Edgemont Bay N.W., Calgary, Alberta, CANADA T3A 2K6.
WANTED: Epoxy pump. Manny Lewis, call (518) 399-8614.
FOR SALE: 56x46 Props Inc. Propeller for Revmaster (I'm converting to a Subaru) ... $100 - Gordon Warrick, 2219 Rembach, Ave., Bodfish, CA 93205
FOR SALE: Q-2, 100TT, Rev 75, reflexor, belly board, Terra NavCom, Excellent workmanship and flies great! $12,500. Call John (406) 752-6964.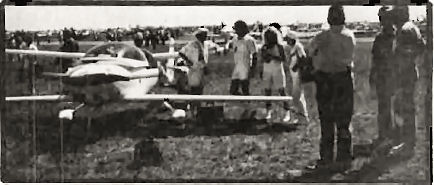 This is SUN 'N FUN and it's coming up soon. Who'll be there on April 5th?????????
---
You can order a PDF or printed copy of Q-talk #31 by using the Q-talk Back Issue Order Page.