Q-talk 19 - ODDS and ENDS
Details

Category: Q-Talk Articles
Published: Sunday, 31 December 1989 06:11
Written by Jim Masal
Hits: 2242
Quickie Aircraft Corporation Newsletters - I have acquired a stash of the original "Quickie Newsletter" issued by QAC. These issues begin with #3 and go to #25. So far as I know, there never was nos. 1 and 2 (does anyone know different?). Newsletters contain QAC's plans changes and builder tips for the Quickie/Q2/Q200 (the Q2 was introduced starting with issue #9). Complete your set or get a full set of previously unavailable issues for only $1.50 each, including postage from QBA.
I was saddened just after Christmas to hear of the death of a loyal and supportive QBA member Sherman Hanke of Clio, SC. Sherm was an active and enthusiastic dealer for QAC and he supported Q builders with wise advice, plans and whatever kind of parts and supplies he could scrounge until his end. Sherman was a very active aviator, operating a Clio crop dusting service while dabbling in depth in sport aviation as dealer for the Q's and Avid Flyer. He will be missed but long appreciated by many of us.
Ted Kibiuk called to report an accident he had with one of the large tires on the plastic Quickie wheels. Suspecting a slow leak, he aired it up beyond the 20 lb recommendation to 35 lbs. On his way to the water tank to search for the leak it exploded in his hands minutes later. Little damage done, but Ted wanted to be sure everyone was cautioned.
O.K., I need some help from you computer experts. This ol' Kaypro II I've been hacking away on for 8 years is beginning to snort 'n wheeze and is getting arthritic. I need a change to an IBM compatible. Anybody got advice on what I should get and where I can get my money's worth? I can scrape up about a $1,500 budget and I am fantasizing a 286 machine with 30 to 40 MB hard drive, both 1.2 MB and 360 K floppies, an AT keyboard, VGA card and monitor, 2400 Baud internal modem and 150+ watts power. Maybe I can get set up so some of you guys can send me stuff over the wire. Call me with your advice or sneers: 214-351-6945. I thank all you guys who have been ordering rosters, pins and QBA or QAC back issues. This is giving me the extra bucks to replace my computer and keep on plugging into the '90's.
NEW! QBA PATCHES - I've been hatching get-rich-quick schemes again and I now have a supply of patches like the ones on the QBA hats many of you were wearing at Sun 'n Fun, Springfield and Oshkosh. These are red with a yellow Q-2/200 in flight surrounded by the words "Quickie Builders Association". These are IRON ON patches so you won't have to nag your wife, and only $2.50 each to my computer replacement fund.
While idling away some time on my circular, porcelain chair seat, I happened to read my response to Brian Martinez in the last issue. Geeezze, I must've had a bug up my butt when I wrote that!
I apologize, Brian, for coming on THAT strong. What I wanted to express was that these planes ARE NOT all that complicated to successfully complete. They are essentially molehills. But for those who are inclined to make a mountain out of a molehill, they are free to do so. This keeps the creative juices flowing, nourishes the brains of the intellectual, and, more often than not, results in an especially enjoyable airplane. It's just that, for gosh sakes, I'm impatient to admire your airplanes while standing by the runway watching you make a high speed pass at 200 feet.
And while I'm in an apologetic mood, Barry Weber's grandmother does NOT wear Army boots as I cracked in #16. While it took him a while to report on his bird, it is a dandy...worth the wait. Furthermore, he never has dropped QBA membership. I mistook him for another rascal. (But maybe his grandmother wears desert boots only.)
Lenny Padios has found some beautiful, custom made black satin jackets. He can have them embroidered on the left chest with your name and N number and on the back the model of Q you have, the airplane's shape and your N number. Price is $130.00. Write him at 1801 Ocean Park Bl. #207, Santa Monica, CA 90405
Mike Conlin found this in the Dec. '89 Popular Science: "There'll be no more pulling recoil ropes on backpack sprayers and blowers if carburetor manufacturer Walbro Corp. has its way. The company's new Automatic Starting System...starts small two cycle engines with the push of a button. And there's no need to fool with the choke plate or systems. Each time you push the "start" button, electronic circuitry sets the choke (it even senses when not to choke, as when the engine's warm), injects fuel into the carburetor (or not, again according to conditions), and ignites the spark plug - all without operator intervention." Conlin comments: Can you imagine doing away with the battery, not to mention the starter, ring gear and associated components? Why not a C-85 or 0-200?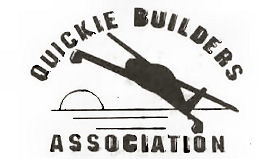 The new QBA patch looks like this.
---
You can order a PDF or printed copy of Q-talk #19 by using the Q-talk Back Issue Order Page.