Q-talk 19 - CHECKING IN WITH THE HOME OFFICE, 1990
Details

Category: Q-Talk Articles
Published: Sunday, 31 December 1989 06:11
Written by Jim Masal
Hits: 2132
Large as we are, a surprising number of us have been around the QBA for quite a spell. Lots of us have met and gotten to know a bit about lots of others. Here are some excerpts from the annual reports I am getting. Maybe you'll find a friend reporting in... or maybe you'll sympathize with a fellow flier in the same fix as you.
You knew I was going to say progress on the Ultra Q was zip, but I honestly can't remember what I did on it in '89. You're doing a great job with the newsletter -- I especially enjoy your editorializing, and us slowpokes need your jabs of encouragement. The sarcastic wit has developed nicely over the years (What sarcastic wit???!!, ED.) Please don't let any of us off the hook. Play drill sergeant/mentor/etc. - D. J. Harms, Newton, KS **** I have enjoyed another year of Q-TALK. As you know, I am a Dragonfly builder but like to keep up with what's going on in the tandem wing group. I am proceeding, slowly, with my tri-gear conversion. I was able to get some ideas from Ron Whetson on how he did his original Q2 tri gear conversion. Very nice fellow - John Owen, Davidson, NC **** My project had been on hold for three years, however, this summer I obtained a 82 H.P. HAPI engine. The engine fits the small Revmaster cowling fairly well. Problems: getting a prop hub extension made, altering the intake manifold, exhaust, and finding a suitable carburetor air filter and inlet. Your valuable newsletter helps a lot. - Bill Mueller, Lincoln, NE **** My plane was down for months while the radio was busted. I finally got it fixed. This morning I had a hankering to go fly. Now the visibility has been poor for two weeks; a high-pressure "dirty" ridge has been centered right over us and won't move. So I called the telephone number for ATIS; the visibility was zero with fog and haze. Maybe next week - Robert Godbe, Palo Alto, CA **** After a year's absence from building I worked on "old 2833" all summer. Did as much prefinish as possible on canard and got it mounted. To extend the working season I am almost finished with garage modification consisting of full insulation, drywall and a 60,000 BTU direct vent wall furnace! Now maybe I can come up with more frequent progress reports - Stu white, Kentwood, MI **** Please revive my subscription. About 4 years ago I sent a check to continue membership. The check was never cashed; I assumed you were no longer publishing QBA. After corresponding with Norman Howell, he informed me that you were indeed still publishing, I am no doubt behind, probably 3 years; that is also the condition of Q #195 - 75% complete. Looking forward to renewing information about Quickie development - Harry Oberg, Evanston, WY (ED. NOTE: As I've said before, this is a one-man operation. Sometimes I slow down, sometimes I make a mistake; sometimes the Post Office makes a mistake. If you are expecting something from me and a month goes by with no response, MAKE THE EFFORT TO TRY ONE LAST TIME. Don't just shrug and give up...unless, of course, you don't think Q-TALK or me are worth a damn. Glad to have you back, Harry!)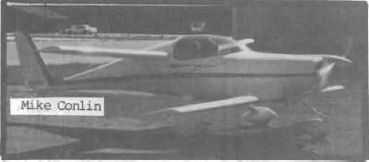 **** My congratulations to Fran Benton for her cautious approach to flying her Quickie. It was through Fran that I was introduced to Q-TALK. I am building my Quickie 100% by the plans and Q-TALK has given me the will to stay at it. - W. E. Fisher, Dauphin, Manitoba, Canada **** My Quickie N5177C has "0" flying hours. No time to haul 50 miles to airport. - Tom Curtis, Coalmont, TN **** N100KC has about 20 hours air time plus 20 hours ground time. I plan to install a Warp Drive 3 blade adjustable composite prop if they can reduce the hub size from 12" to 10" to fit the Q2 spinner/cowl size. Have ordered an electric defroster/heater from J. C. Whitney (it's -24 today). I will let you know how both work. - Jim Casey, St. Paul, MN **** Just a short note to send you my dues and give you any update on the C.G. computer program. I have completely updated it and made it more user friendly. It takes a lot less input from the user. I will have some copies with me at Sun and Fun. - James H. Langley, Republic, MO **** Just a short note to get the $$ to you before you go into another annual spin. I had wanted to get some pictures to you showing some progress but didn't get the film. (ED. NOTE: I've heard that one!) I'm still thinking I can make my goal of flying to Oshkosh '92. - Larry Kehler, St Louis, MO **** I still haven't restarted my project but it's not forgotten. How can you forget something that has been occupying your garage for nine years? - Ray Shapard, Riverdale, MD **** Keep Q-TALK coming. I still have hopes of getting back to the Quickie project but it's now on hold in Dick Chandos' garage. - Neal Current, Goleta, CA **** I heard on the news today that there are 30,000 pilots over 60 years of age enjoying flying today. - Phil Kelly, Miami, FL
**** Still no news on my BMW engine conversion. - Chris Young, Oceanshore, WA **** I'm one of the strange Swiss Q-2 builders in far Europe. I received my kit-bird last year, just before Oshkosh. It was my first time at the big show. It smashed everything I saw before and I got all you Q-guys in very good mind. It will be a great pleasure to meet you all again at Oshkosh '90. I had to close down my workshop in London to move to Munchen in West Germany. To keep my dream bird alive I'm in close contact with Rudi Brandenberger at Manchester. Hangar flying is not only nice, it's also very important. One more reason to have the Q-TALK letters. Thank you very much for all your great work. - Jack Kofler, West Germany **** Please keep sending Q-TALK to Austria. Our Tri-Q is coming along fine. We should be flying again in spring. - E. Knoch, Austria **** Just finished mounting the canopy and all the associated locks, etc. I found that using a tip in one of the back issues made it a little simpler process and that alone makes it worth a year of dues to me. I've been waiting for a couple of blocks of foam to arrive from the states. As soon as they arrive I will be jigging to beat the band. I've also received the Rotax conversion plans from Jinx. They did a very good quality job. Next week I'm going to go to Manila and take a look at the Lancair factory. Hopefully there won't be any coup attempt during my visit. Oh, the joys of living in the P.I. - Steve Nelson, Philippines.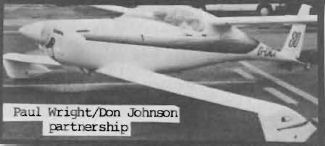 **** I have not worked on my Q200 for 2 years but hope to get back to it after the rebuilding of my old house. - Evan Dunnell, Northport, NY **** Couldn't have gotten this far without Q-TALK. I should be test flying by mid 1990 as I am at the finishing to paint stage. J.M. Dimberline, New Zealand **** My ship is nearing launch, it is receiving interior paint, engine baffling and instruments (Q-200). The things that have kept me going have been the continuing optimistic reports in your great newsletter, and a ride I had recently in a Q-2 in Queensland. Keep it going mate! - John Cartledge, Dingley, Victoria, Australia **** I really get a lot of good information from our Q-TALK, thanks for the good work. I'm putting my Q-200 together now and I'm getting ready to cut a hole in the firewall for engine installation. - Walter Newton, Pendleton, OR **** Enclosed please find my subscription to Q-TALK the best "one class" newsletter going. You do a super job of "cementing" the builders' comments, suggestions, ideas, etc. into an informative, flowing and interesting to read document. SN2435 is still gathering dust but I have conducted several EAA seminars and demonstrations on composite construction using my Q parts and methods. - Frank Wilcox, Snellville, GA **** Thanks for the wonderful newsletter. Quickie SN333 is progressing very well. I found that I have learned a lot in the process. I came from not knowing what fiberglass cloth looked like to where I am now. Really enjoyed the pre-flight checklist in last month's newsletter or should I call it "practical testing". - Lawrence Brunet, Scott, LA **** Dar Hogan, Charlie Cardwell and I are looking forward to 1990 with Q-TALK, possibly a second Springfield "flocking" and big Oshkosh doing for QBAers. - Tom Hogan, Oak Ridge, TN **** Took up your suggestion, Jim, and called Bob Malechek, ... WOW! Headed out Sunday morning - found him in Denton with one of the best machines I've ever seen (even had the cowl off). We flew to Ardmore, OK where he gave a ride to another builder. This is some flying machine. - Alan Kittleson, Grapevine, TX **** I still need a 0-200 engine and exhaust. Do you have any recommendations? I also need a prop and 5" extension. - Waylen Montgomery, Ft. Worth, TX **** My "Next Project", #Q-240 is in a cocoon on the shop ceiling ready to be worked on right after some repairs on cars, houses and furniture are zapped out. I have one of the Q-1 carbon spar kits. If someone has a design for a centerline front wheel (like gliders use), it would be nice to incorporate that to improve ground handling. - Steve Webster, Alexandria, VA **** I've just about got my garage set up as a workshop - using "The Sportplane Builder" as a reference. Should be able to begin glassing again soon. - Dave Chalmers, Redmond, WA (ED. NOTE: Dave's plane is a rare bird: an import INTO the US from England. It's usually the other way around.) **** Status on N3QP: This Q-200 tail dragger has just short of 500 hours in 17 states and 2 countries. I have two customer registration certificates stuck on the side as this has been the second year of my 400 miles over water cross countries to the Bahamas; seven trips there so far. Tail Wheels Forever! - Mike Dwyer, Clearwater, FL **** I recently purchased a partially completely Quickie and expect to have it ready to fly in about a month. I am installing a BRS parachute in mine; BRS said this hasn't been done yet. Quickie builders may be interested in how I did it. - Jerry Neis, Beaver Dam, WI 414-326-3868 **** Our Q-2 has now flown 64 hours but due to our high altitude and the Posa carb not performing satisfactory we are in process of replacing it with a Webber Twin carb. Please keep sending me my lifeline for 1990. May this be the year of the Q. - Sam Saitowitz, South Africa **** Find enclosed my check for all the good (and bad) news of 1990. I have 24 hours on the turbo Q-2, most of them exhilarating. At present I have it stripped down for an annual "condition inspection". - John Cheek, Nashville, TN **** Conversion to TRI-Q complete, waiting for spring to take to airport. Lots of inspiration from local EAA chapter, especially Fred Keller (Long EZ, Defiant, Prospector, KRI, etc.). - Tom O'Grady, Anchorage, Alaska **** My Quickie is almost to the painting stage. I am using the new canard; I've been waiting for reports on other Quickies using the LS-1 canard. - Dennis Clark, Newnan, GA **** Quickie #388 flying great, but had another motor mount shear in flight (this cured now with larger bolts). Also installed safety cables. Had no problems or erratic behavior when these bolts broke, but in case I should experience it again, the cables would give me added confidence. The Kawasaki (AED conversion) is, I believe, a good one. 50 hrs now, same plugs, no other problems. It's a thrilling performer. - Karl Miller, Glencoe, MN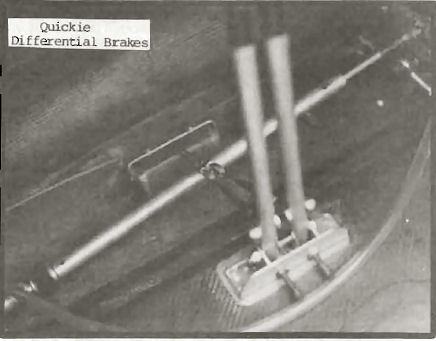 **** My personal contribution to this treasure-trove of knowledge has to be postponed for now. As it sometimes happens in life, I had to "waste" the whole summer wading neck-deep in some highbrow theories for my M. Eng. thesis. Fortunately, it's all wrapped up now and I have no excuses for 1990. The task ahead is not overwhelming anymore, but still substantial. I definitely would not be half as confident had it not been for the thick, lovingly stashed away folder full of Q-TALKS. - Igor Mokrys, Calgary, Canada **** Women and financial problems have hindered my progress somewhat on Quickie #280. I sure would like to see some tips in these areas from time to time. - Bill Archer, Magnolia, AR **** I moved last May and once again am finding the time to work on the Q-2. This is the third garage my "Labor of Love" has been in. With some more work its next home should be a hanger. - Dennis Mielke, Franklin, WI (AND WITH SOME MORE WORK, MORE OF US HOPE TO BE IN THE SAME TYPE OF HOME YOU'RE EXPECTING, DENNIS. RIGHT, GUYS?????)
---
You can order a PDF or printed copy of Q-talk #19 by using the Q-talk Back Issue Order Page.