Q-talk 14 - Q-TIPS
Details

Category: Q-Talk Articles
Published: Tuesday, 28 February 1989 06:11
Written by Jim Masal
Hits: 2060
SAFETY ALERT
John Hicks, a former QBA member, wrote me an urgent letter advising all Q-pilots to make special pre-flight note of their elevator pivot point play. John's Quickie has 600 hours on the Onan engine in over six years of flight. He began noticing increased vibration in the right elevator and felt there was more play in the surfaces than was proper. When he removed the elevator, he found the outboard bushing worn through and the shaft worn halfway. John also said he wrote to Sheehan to locate replacement parts but no answer as yet.
This is the third time now that I have heard of excessive elevator play traced to bushing wear. It is highly advisable for all pilots, especially those of high time aircraft (or high vibrators, like the Quickie), to carefully pre-flight elevator play. You do not want to find yourself in a s sudden, unexpected roll during an otherwise pleasant flight.
Anyone with suggestions for a more durable replacement should not hesitate to sing out.
From Dave Naumann
Accidents have occurred from locking the brakes in flight to prevent the wheels from spinning and then failing to unlock before landing. Why not take a small elastic loop around the brake handle and anchor it to the seatback on the left side. This will be enough to keep the wheel from spinning but will not be strong enough to flip you over if forgotten on landing.
From John Derr
A very fine (pun intended) fuel filter can be made by using a 200 mesh Teflon-coated screen, Facet part no. 675151. It should be available from your local Facet distributor at a cost of $13 for 1 square foot. I replaced the coarser screen in a tractor funnel with this mesh and have used it to filter out the water and other junk when refueling my boat. Now I'm making a custom plastic filter funnel with this screen for my Tri-Q. The Teflon screen is more durable than chamois and just as effective.
From Phil Bryan
I called QAC to discuss elevator design when I built them. I too was concerned about the fact that the load path is through foam and relies on good bonding in a difficult assembly. They justified the design based on prior application in the Long-Eze. They did, however, suggest hollowing the ends and closing with BID:
I also tried cutting 1/8" wide slots in the foam to the torque tube along the leading edge. I filled the slots with flox before glassing the outside but had trouble getting the flox into the slot. I would not recommend this method. Your wooden dowel suggestion is the best I've heard yet.
For filling and sanding I've been using the West epoxy/Morton system. I use 40 grit paper on a 15" body file to contour the West dry micro and 100 grit on the Morton's. I've tried numerous power tools to ease the work but nothing beats elbow grease.
From Rick Lavigne
Sanding is no fun job, so it seems the best thing to do is break up the sanding task as much as possible. Whenever I complete a major item (fuselage, wing, fin, etc.) I complete all the initial prep sanding before I put the piece away to work on the next. When I go to put everything together, things will be set for tapes and filling with micro.
QAC plans call for the ends of the control surfaces to be either brushed with micro slurry or 1 layer of glass. On mine, I removed 3/16" foam from the end and filled this void with flox. This makes for a very hard and strong edge and a good surface to sand and get a good even space between the control surface and the opposite surface (you can do the same for the opposing surface too).
From Norm Howell
VDO makes a "cockpit" line of instrument gauges, which are exactly the same as the Mitchell EMS line featured in the Wicks and Spruce catalogs, except that the price is 1/2 and the VDO's are 2 1/16 dia. vs. the 2-14 4-screw mount for the Mitchell's. I saw these advertised in Kitplanes.
From Dave Norwood
Charlie Lipke suggests that vibration may have contributed to the broken alternator leads he experienced at Oshkosh. Also Sam Hoskins' cracked spinner bulkheads may have been vibration related.
I have been dynamic balancing spinner/prop/engine systems for four years now using the Chadwick-Helmuth Vibrex System and have found it does wonders for the life of engines, accessories, cowlings and airframes. If anyone in your area does this service, I really think it is worth the $100 or so.
From Jeff Cox
I found a Dremel attachment that saves time in cutting grooves for my antennas etc. It is made by Dremel and turns your Dremel tool into a miniature router. Just set your Dremel tool into the attachment, set the depth and slide the rig along the surface for a perfect groove of uniform depth and width.
I found some really nice 3M disposable respirators, which are much better than the usual hardware store variety with the rubber band headband. These are better quality and fairly inexpensive. Part no. 9920 Dust and Welding Fume Respirator. They come in a bag of 10.
Q-TALK had an idea of spreading micro on the foam surface, letting it harden and then sanding/shaping the surface prior to laying up the layers of fiberglass. I have tried this idea with good results. I usually have to micro the surface 2-3 times, sanding/shaping between each coat, to get what I feel to be good results. I know some of you are saying to yourselves that this must be awfully heavy, but I don't believe I'm adding any more weight than the original method. First, I don't put on half-inch coats of micro, secondly, I sand and apply only the micro needed to take out imperfections from the surface of the core while making sure the entire core is covered. The fiberglass cloth is a cinch to put on because I have no messy micro to fuss with; I just pour epoxy on the smooth surface, squeegee it around, lay down the glass and squeegee out the excess. I now have a layup with all the glass fibers almost perfectly straight with no waves or dips in the surface that will have to be sanded off or filled later. I won't be cutting through the glass at a high spot later on with a sanding block and straighter glass means a stronger structure.
From Floyd Perryman: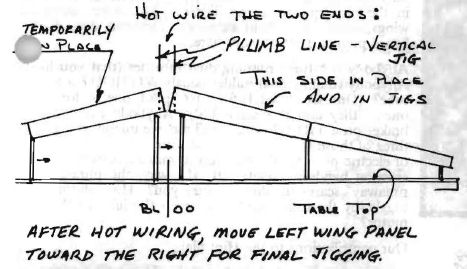 ---
You can order a PDF or printed copy of Q-talk #14 by using the Q-talk Back Issue Order Page.