Q-talk 13 - PILOT PROFILE
Details

Category: Q-Talk Articles
Published: Saturday, 31 December 1988 06:11
Written by Jim Masal
Hits: 1308
Alan McFarland is an old hand in the QBA. Like many of us, airplane building didn't come fast and natural to him, but also like many of us he was doggedly determined...and...he made it!
Alan is a 40-year-old microcomputer programmer, degreed in physics and math and is married to his best friend, Birgitt, a native of Germany. He has worked as a psychotherapist, owned a solar energy store and in off-work hours busies himself with photography, sailing, meditation, hiking and flying. Alan first flew with a friend in high school when they would combine their hobbies by photographing favorite hiking areas in Yosemite from the air. His chance to earn a pilot's license came in the Air Force Reserves where he paid $5.50 net plus $5.00 for the instructor (the proverbial good old days).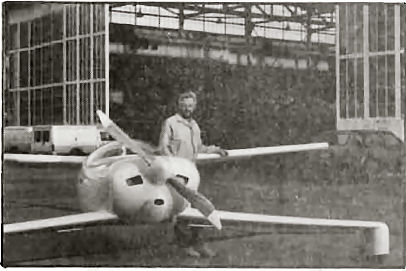 Once Alan got his license, he stopped flying for the next 15 years. He says, "I cannot seem to decide whether I really like flying or not. Each time I get to the point of almost feeling like I am in control, I seem to stop." He was just getting comfortable in his Q-200 when winter set in. Here's his story to date:
FIRST FLIGHT - ALAN McFARLAND
On 13 March 1988 at 7:30 a.m., Experimental One Eight Foxtrot Sierra (Q-200 #2742) and I took our first flight. It was an exhilarating and mostly uneventful experience. About 5 seconds after lift-off, I could sense everything was OK. About 30 second later, a cough and backfire cleaned out 3 tach hours worth of taxi testing, and I gulped. I saw 120 mph on the ASI, I think 1500 ft/min on the VSI, and on turning downwind I was 2000 ft above the field. I mentally pinched myself..."Yes it's me, yes it's my plane, yes we're in the air". What a beautiful day!
And now it's all happening at once. I abandon my plan to go to 5000 feet. I'm a 100 hour pilot with 40 of that 18 years ago, 40 four years ago, and 20 recently. I'm most comfortable with pattern work, as that has made up all but a check ride of my recent flying. I want to stay on one frequency and on one runway, and she did just backfire. Nothing wrong mind you.
Thank God (or rather Greg Kelsey of Boise) for two hours of flight time in his Q2. The best time I've ever invested. Thanks!!! First we had done slow flight (90-100 mph) and then a LOT of low passes (6-12") over a long runway. So I started duplicating these passes on my test flight, which was my plan for training the pilot. The first approaches were much too fast, but as I wasn't intending to land...no problem. I touched the wheels some of the time, bounced along, even hopped a bit, and then went around.
On the second downwind the tower wanted to know my speed and I joyfully report 150 mph (really 145 as I didn't know how to read the thing). Next they asked me to extend the downwind which started to feel like a cross country, so I asked to circle. It was about the 6th or 8th pattern that I finally got slowed and trimmed to 100 mph on approach, touched down quite nicely, and turned off midfield. "Enough for today".
My airplane-building project is now COMPLETE. Five and a half years of construction are now behind me. What comes next is a new beginning.
I want to share some of the steps that got me to the point of that first flight. My phone bill that afternoon will reflect on the number of people who were involved. But what I'll remember the most is hugging my wife.
From the beginning of construction timing was good, resulting in the new canard and an 0-200. I was lucky to receive all shipments in a timely manner. Gene has been quite helpful, as have been Scott Swing, Bob McFarland, Gordon Pratt, Jim Masal. If I spent 2000 hours on the project, 1000 of those were spent scratching my head, not to count setting up 5 garages, and a trailer trip from San Francisco to Spokane. Now I work out of a Spokane Airways' hangar at Spokane International.
Also included in the years was a major $2000 medical bout with internal pain from epoxy poisoning (I now ache for weeks after painting with enamels, polyurethane's, etc.), a continued sense of numbness in my right thigh from oxygen deprivation in the tail cone in no-time-at-all, much soul searching about the design ala Q-Talk reports of crashes, moments of wanting to axe the bird, debt I'm still not out of, and fights with my loved one.
I beat the first snow to the runway last fall by only a few hours. The result was about eight high-speed taxi runs, the last registering 75 mph, which was a mistake. This lifted the tail though neutral stick kept me on the ground. The transition to rudder steering was uneventful. Before this I'd spent several days totaling several hours on the ramp taxiing up to 40 mph. MUCH LOW SPEED TAXIING IS ESSENTIAL, and I think the more the better (and it's safe!). Even though I put all the switches, levers, and gauges in place, my hands did not know where they were. A strange sensation. So much was new. But finally things began to be automatic.
In preparation for flying I received 10 hours of INSTRUCTION IN A TAILDRAGGER, ALSO ESSENTIAL, and then flew a few more on my own. For the first four hours in the Champ, I felt totally out of control on all of the landings. Then I had one good landing and never felt out of control again. Not to say my landings after four hours were good. We intentionally and unintentionally bounced landings, practiced wheel landings, made go arounds, etc. If you want a real treat, take a trip into the air with Gladys Buroker at Silverwood (Henley's Aerodrome), Athol, Idaho. She is in her 80's, and an amazing instructor.
High speed taxiing?!? I did it. Probably 30 or more runs at 60 or 70 mph, of a mile or more each. They are clearly trickier than flying. The runways are 8000 and 9000 feet, both with a disconcerting washboard effect. I now avoid the bounce where they cross; however, one time it nearly launched me. On my last set of runs I got bouncing to the point that if my prayer hadn't been answered (and I'm not Christian), I would have hoped to have the guts/smarts to add power and fly. To restate my point, a high speed taxi NOW would be duck-soup in comparison, because now I could easily add power and fly. This must be why people say...DO NOT HIGH SPEED TAXI UNLESS YOU ARE READY TO FLY, and this means mechanically, mentally, atmospherically, legally, etc.
So far I can report just one hair raising incident. I landed at a new airport, swerved, applied power, and took-off across the grass. I blamed it on a bit of cross wind and tried a couple of more times...very squirrelly. I returned home to another squirrelly landing. Got out to find I'd lost two quarts of oil, which had neatly run down the underside of the fuselage and GREASED the tailwheel. Turns out I mounted an electric oil pressure sender, extended with a 3" brass nipple. It broke. You wouldn't believe how thin the brass wall was where it was threaded. I take credit for the mistake, so nobody else need repeat it.
Finally, I've got to say the plane seems to be forgiving. I've bounced it just like I did the Champ. There seems to be a fair margin for error. When I started I thought everything had to be done just right, and it is just not so. For example, takeoff works full aft stick or not, and landings work too hot or not. However, rollouts take full concentration, always, and then some. My greased tailwheel might not have been a problem, had I been more alert.
P.S. One year and a day after getting OK'd for my first flight, I just got my "unlimited" certificate.
---
You can order a PDF or printed copy of Q-talk #13 by using the Q-talk Back Issue Order Page.