Q-talk 12 - QUICKIE HINTS
Details

Category: Q-Talk Articles
Published: Monday, 31 October 1988 06:11
Written by Jim Masal
Hits: 1529
From Norm Howell, Germany
Quickie N170Q is flying in Enid, OK at the hands of a very good friend of mine, Charlie Calivas. The Rotax 503 got back from LEAF with a clean bill of health. It is an affront to my aesthetic and aerodynamic sensibilities, but after Oshkosh I relented to my better judgment and cut a couple of holes in the right side of the cowl (gasp!! almost as traumatic as cutting off the tail after it was flying), and put on a pair of K&N RC1200 conical filters like the ultralights use. I didn't notice any loss of speed and Charlie notes no problem with the arrangement even though the filters stick out into the breeze a ways. The peace of mind knowing that Herr Rotax is breathing clean air makes up for the loss of aesthetics.
From Jinx Hawks, Camarillo, CA
All's well with the Rotax 503 Quickies at Camarillo. The configuration of N3VD has not changed and I have 125 hours on it as of Nov. '88. Most of my flying consists of 30-minute hops up and down the valleys and canyons near here. One comment: my 503 single carb installation protrudes 1/2" further outboard than Brock's dual carb throats, but the single carb is located further aft (centered between dual carb installation). I consider it an insignificant difference.
From Charlie Lipke, Onalaska, WI
As I did my run-up prior to leaving Oshkosh '87, I noticed my voltage would only stay at 13-15 VDC temporarily. As I taxied to 36 it stayed at 12 VDC, so I turned around and headed to maintenance. As others have said, airplanes will usually let you know before problems get serious IF you pay attention. I pulled the cowling for a visual check and then stuck my head under the instrument panel. There it was! An alternator wire connection at the master switch had failed. The connection was evidently loose enough to heat up and melt the remaining solder. I remember seeing a drop of solder on the gas tank when I arrived at Oshkosh. It looked odd, but because the front turtle deck permanently covers the instrument panel, I could not easily notice the problem. Vibration and a slightly short wire harness had also broken one of the ground leads. Good thing there are two. After a couple of hours I was ready to go...and I was glad I waited.
BOTTOM LINE: Vibration level in my plane I think is similar to others so BEWARE. It is my opinion that vibration will probably be the cause of most future component failures.
If I were doing the front turtle deck and instrument panel over again, I would install the panel fixed to the fuselage as I have it but I'd extend the canopy over it so that I could easily inspect the back of the panel before each flight. Maybe I'd fashion a light, flexible plastic cover over it to keep out possible rain, etc.
In a call to my local John Deere dealer, he confirmed that there was a service bulletin issued on the Onan used in their model 420's (??). The engine is similar to ours. The bulletin called for relocation of the condenser from under the cover to an area near the coil. He said be certain there is a good ground. Deere then ran a wire to the negative (-) side of the coil. They had experienced condenser failure due to high temps at the original location. Apparently it was the same as ours, however, the exhaust ran near the box also. Has anyone experienced condenser failure? Under what conditions?
From Ken Norwick, Canada
I fabricated a Rotax 447 motor mount adapted from Ed Miller's mount. It weighs about 2.5 pounds and seems to be quite strong. I will be filling the old Onan mounting holes with wooden plugs and glassing them over.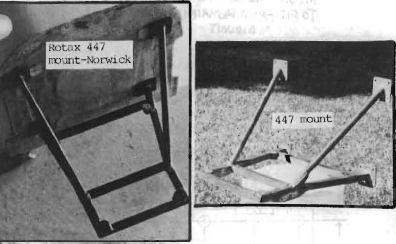 From Tom Curtis, Coalmont, TN
The cover for the hole in my seatback bulkhead also has a holder for pilot and airplane logs.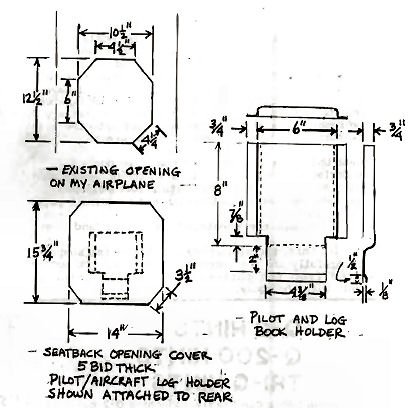 From Cliff Stripling, Carrollton, TX
1. I covered my instrument panel with Naugahyde using contact cement.
2. My cowling is modified to allow for better cooling by creating more outlet area for hot air.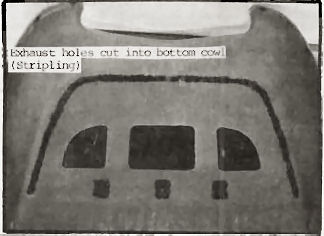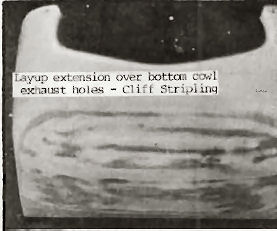 From Ted Kibiuk, Holland Patent, NY
My Quickie sure does generate interest from people passing by. The local telephone repairman recently gave me an hour and a half lecture on battery operation and maintenance then later brought me an auto rectifier/charger. We use it to charge up the battery about once a month. I have a male plug permanently installed into the seatback bulkhead and wired to the onboard battery. To charge the battery I plug the female connector from the rectifier into the male plug and turn it on for 12-18 hours. Works great!
On BID and UNI cloth cutouts, here's what we do:
1. We underlay the cloth with 2 or 3 sheets of newspaper.
2. We mark the pattern to be cut with a soft felt pen.
3. We go over the marks lightly with red fingernail paint or nitrate paint.
4. We cut through the sheets of newspaper and cloth together.
By doing all this, the cloth does not change its shape if handled carefully and the threads of fibers do not become separated from the pattern. The nitrate paint is compatible with the epoxy.
---
You can order a PDF or printed copy of Q-talk #12 by using the Q-talk Back Issue Order Page.