Q-talk 2 - QUICKIE NEWS
Details

Category: Q-Talk Articles
Published: Saturday, 28 February 1987 06:11
Written by Jim Masal
Hits: 1544
WHERE'S THE JUICE?
In the relentless struggle to squeeze all the juice out of the Onan, last fall Norm Howell got me some Champion RS14YC plugs that he was using on his Quickie. These plugs set in the head hole deeper and likely give "gooder" combustion. Take a look. Doug Swanningson, who had over 900 hours on his Quickie flew and recommended NGK (brand) BPR6EFS spark plugs. These are Jap plugs, but for American cars, so don't look in a Jap car store. Super Shops have them around here. After a talk with the NGK-USA rep who says they have an even hotter replacement with a V-grooved electrode and other trick ceramic stuff called the TR5, I got some to try and if I get another 200 fpm, I won't write, you'll hear me yelling.
GLOBAL ENGINE UPDATE
While strolling around the commercial exhibits at Sun 'N Fun, I walked up on a booth with a nice little VW-based 4 cycle that, except for color, looked just like a Global. The booth was unmanned at the time, but was assigned to Mosler Motors, Inc., 140 Ashwood Rd., Hendersonville, NC 28739. I came back later and talked to developer John Martin and Bob Counts (formerly with Global and Nostalgair). Bob related Global's financial difficulty and said the Mosler was a new, improved version of the engine: all aluminum and stronger case than the alum./magnesium Global, more cooling fin area, remote oil cooler, remote oil filter, and a price of $2,268.
HALF VOLKWAGEN ENGINES
As mentioned previously, plans for sawing a VW in half are available from both the originator, Morry Hummel, and from Kite Industries in AZ. Kite also has some parts available. At Sun 'N Fun I spoke with Steve Bennett, president of Great Plains Aircraft Supply, (312) 359-6558, who told me the company soon plans to have parts for sale to assemble a complete half VW engine. Great Plains has long been known for its VW aircraft engine conversions and as a supplier of parts for flying VW's. Bennett gave a VW engine conversion forum and I came away convinced that the man REALLY knows his stuff. Practical tips and experiences were dropping out of his mouth in a continuous stream so fast that I couldn't even get half of it down. Steve suggested we exchange newsletters, so I'll keep you updated.
Last April I crashed my Quickie, N316Q, in central Florida suffering multiple fractures of both ankles, broken left shin and significant loss of flesh in my left heel. 7 weeks of hospitalization and 7 surgeries later, I'm very lucky to be alive, and have prospects of walking without aids soon.
My Quickie flew with the 20 hp Onan with the original exhaust pipe installation, i.e. 2 steel bolts connecting the pipe to the threaded aluminum case "bosses" with the pipe otherwise unsupported. Amplifying vibration at the manifold end caused one of the bosses to strip. The day of the accident, I noticed that one of the exhaust manifold bolts could only be torqued finger tight. I had spent the night in Jacksonville, FL and was on my way home to Deland, FL. I was developing 3100 static rpm, and saw no change in CHT so I concluded it was safe to fly home. I did not consider the risk of carbon monoxide poisoning then or even until 3 months after the accident, but here's my logic now:
1. I had a known exhaust leak prior to takeoff.
2. There were air holes through the firewall at the mounts.
3. Poorly ventilated cockpit. One incoming air vent, no exhaust. Charts were always motionless, unfolded in flight.
4. Headed SW and 5 mi. from home base, my memory went blank. The accident occurred 10 mi. SW on a NE heading. I was low on fuel and had intended to land in Deland without delay.
5. The plane hit 30 degrees down into a forest within 150 yards of a lightly traveled, paved road, 45 degrees to it. I don't believe I stalled on a final approach; I had the wrong heading and angle of attack for a quickie.
6. The controls were intact.
7. The FAA believes I MAY have run out of fuel, but 20 mi. from Deland I had 2 gal. showing on my float gauge. Fuel was later found in the filters and lines and the NTSB said the prop fracture indicated it was turning under power at impact. The fuel tank was destroyed on impact. Fuel starvation does not explain my impact attitude or retroactive loss of memory.
8. I don't believe I could have become lost 5 mi. from my home base or that I changed my plans to land considering my low fuel.
LESSONS TO BE LEARNED
1. There may be no physical symptoms prior to losing consciousness from CO poisoning (no dizziness, headache, blurred vision, odor).
2. Install carbon monoxide sensors. If exposed, CO can stay in the blood for days so exposure can be cumulative over several flights. Consult your doctor about taking a blood test.
3. Install braces at the free end of your exhaust pipes to lessen vibration at the bolts.
4. Pre-flight check and never fly with an exhaust leak.
5. Insure good cockpit ventilation.
6. Seal all firewall air leaks.
When belted in, cockpit and pilot stay amazingly intact.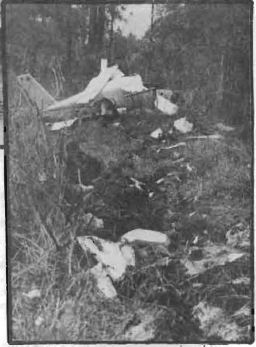 A nasty looking path of destruction.
Many months after the accident, I visited the crash site again. I still have total loss of memory until 2 days after the accident. I landed in a barely developed subdivision with many straight and level crisscrossing roads. I hit within 200' of two roads (perpendicular to one, parallel to the other) so I don't believe I was setting up for an emergency landing.
The Quickie was pure pleasure to fly. I would consider buying another. I was hangared next to the late Doug Swanningson who minimized my risks of Quickie flying. Mine was 5 years and 220 hrs. old when I purchased it from Tom Blythe of Portsmouth, VA. I saw Blythe fly prior to purchase, nevertheless, Doug recommended the following safety measures before I flew:
- Replace elevator center pivot brackets and bushings (one bushing was worn thin).
- Change to 20 hp heads (from 22) and ensure plug clearance.
- Disassemble and clean car float bowl and jets.
- Replace valves and have seats professionally ground.
- Replace brake and rudder cables, add spring between rudder cables at tailspring (eliminating turnbuckles) to control rudder flutter.
- Take 12 hrs. dual in a Citabria (I was a student).
- Do 10 hrs. slow and high speed Quickie taxi practice.
- Relocate battery to the firewall and rewire.
- Install second fuel filter.
- Replace wheel bearings and axles.
- Install cowl vents underneath; change to Bel-Ray oil.
Although I crashed, I flew with less risk than were it not for your newsletter and Mr. Swanningson's advice.
Doug Steen, Bethesda, MD
ED. NOTE: Swanningson had around 900 hrs. in his Quickie. If anyone would know of wear spots, he would; we thank you for sharing his suggestions to you AND for your unhappy experience to put us on notice about carbon monoxide danger.
From Paul Yungen, Power River, B.C., Canada
In the Mar/April Issue #8 of QUICKTALK appears my "Pilot Profile". I completed my Quickie in June '81 in one year and 700 hours and flew it for 101 hrs. with only minor problems. I took it home in Nov. '82 intending to refinish the canard and do the Anderson/Little mods. "Things" happened, and it wasn't back at the airport until August '86. It was nice to get back into the air again, and it performed very well. The canard was now finished to within .001" and with the new heads the engine ran nicely with temps lower and running in the normal range even on hot days. During my first 100 hours, I had found blow-by on the head gaskets and had to grind the valves. The exhaust valves showed signs of burning, especially on the side with poor cooling, and my compression was low.
Unfortunately my Quickie is no longer flying. Last August I flew it for about 10 hours, including a 300 mi. cross-country with no problems of any kind - in fact, it seemed to be running better each time up. Then on Labor Day, I went up for a local flight, flying low over some beaches on one of our nearby islands. As I started climbing out for home, the engine started running rough at about 800' agl. I made an immediate 180 for a short strip on the island, but the engine suddenly quit. At only 800' my best chance was to set up an approach to the beach. There were some large rocks to avoid down the beach so I dropped her in quite hard, breaking the canard and ground looping before coming to a stop. I just sat there waiting for something to happen, but that was it. A lone stranger down the beach was waving and yelling, so I shouted that I was OK, and got out to look the situation over. The canard broke on the left, exactly at the core joint point, the elevator as well, and the rudder broke on a rock during the ground loop. The tide was coming up fast, so the stranger helped me drag it above high water. I tried the radio and was able to reach the airport and arranged to get picked up by a local flyer. The next day I hired a helicopter and brought the Quickie back to home base where it now sits, awaiting the re-build.
Now for the bottom line: why did it quit? I soon found that one of the 3 wires connected to the voltage regulator was broken off at the connection. It didn't take long for the small battery to run down (it was new and fully charged when I took off). Solution: one larger battery will be installed or a second one as a standby, alternator wires will be replaced with new aircraft quality wires, and the voltage regulator will be relocated from on the baffling to the firewall to eliminate vibration, and, finally, a red light on the panel will be set to show me when I lose the charge. The voltmeter is OK, but I don't look at it enough.
If I didn't like the Quickie so much, I would probably write it off now, but it is a dream to fly so I plan to rebuild this year and hope to fly again. Keep the QBA going please.
ED. NOTE: To reacquaint myself with Paul, I went back to re-read #8. Gosh, there was a lot of good Quickie info that I had forgotten! Check it out...and you Q-2 boys need to review Duane Swing's good report in the same issue!
Also review the work of Current and Chandos in #'s 2 & 3. They warned of these electrical problems way back then. Doug Swanningson replaced his battery at every annual as a precaution, but this may not be enough. I myself worried about the ignition wiring, ESPECIALLY breaks in the wires and connections, so I double wired everything AND each wire has its own terminal connector (it does no good to have double wires going to the single terminal connector which might decide to break). AND, simple as the Quickie is and thoughtless as pilots are, it would be a GOOD IDEA to write a pre-flight checklist that included a check of important wiring connections. The minutes you spend before flight save hours of rebuilding/recuperating in the hospital.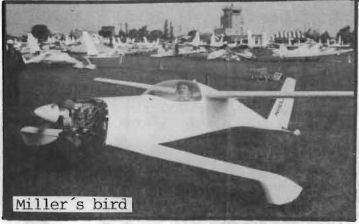 Jim,
With thanks to Ed Miller of Chicago, I have replaced the Onan on N1V with a Rotax 447. First test flight gave me 800 fpm at a 120 IAS climbout speed and 6,200 rpm. I think I'm going to like it!
Jim Schmitt, Evansville, IN
From: V. D. "Jinx" Hawks
Camarilla Airport hangar 115 is where you will find the two ROTAX 503 powered Quickies that were mentioned in several QUICKTALK articles. Brock McCaman has provided the major ROTAX installation data in the QUICKTALK Issue #24 (Nov./Dec. '85). This letter describes my ROTAX/Quickie S/N 554 (NI3VD). 3VD is the light and simple Quickie version and weighs 300# empty including 10# of permanent ballast at sta. 146. Add 50# (8 gal.) of fuel and my 210# to get the normal T.O. weight of 560#.
My ROTAX 503 configuration is fan air cooled, uses 2.238 to 1 gear ratio, a single Bing 54/36 carburetor and claims 46 HP @ 2792 prop/6250 engine RPM. I modified the production 180 degree bend expansion chamber/muffler to fit "bassackward" and semi-submerged under the cowling. (It is a controversial installation). The Craig Catto prop is a 3 bladed wood 46" x 52" pitch.
My heart proved to be very strong when I inadvertently (yes!) took 3VD on its first flight on Oct. 28, '85. As of mid Feb. '87, 3VD has approx. 100 flights and 75 hrs. total flight time. The basic data for the weight and ROTAX shown above is as follows:
Ground static RPM is (2413 prop) 5400 engine.
Camarilla is 80' above S.L. and 3 VD indicated 1300' at 1 minute and 2200' at 2 minutes (with a couple of clearing turns).
Best climb rate is 90/95 MPH at 5900 RPM.
General operations:
| | | | |
| --- | --- | --- | --- |
| Airspeed (MPH) | Prop (RPM) | Eng (RPM) | Operation |
| 60- 80 | 1340 | 3000 | idle letdown |
| 80-105 | 1790/2230 | 4000/5000 | traffic pat. |
| 105-115 | 2230/2410 | 5000/5400 | best endur. (2.5 GPH) |
| 115-120 | 2410/2500 | 5400/5600 | * (don't use) |
| 120-130 | 2500/2790 | 5600/6250 | max. cruise |
*engine moves up or down 100 RPM when you try to set it at 5500
The engine is slightly "under propped" even with my modified muffler which is 7/16" short on the expansion chamber length. However, I feel that I can get out of any field I can land in safely with this combination. McCaman and I have not had ground handling problems. 3VD stalls at 55 MPH but most good landings are greased on at 60.
While building I made the following changes:
1. Rudder pedals mounted on the canard, ala Dragonfly.
2. Installed a cockpit stiffener from longeron to longeron under the instrument panel and mounted two of its shock mounts to the stiffener.
3. The rudder and vertical fin overhang have 1-1/8" longer chord. (Gives 30% more rudder area).
4. Added two 2" BID plys on each side of vertical fin along rudder hinge line and on each side of the leading edge to overlap under fuselage.
5. Made the firewall beef-up described in McCaman's article.
6. After several flights, moved prop thrust line two degrees left and adjusted right elevator trailing edge 1/8" down. Very effective change with some left rudder still required at lift off.
Problems? I have had several occasions where I would be reducing the throttle setting at high/full power when the engine drops several hundred RPM and quickly recovers. I've been changing the B8ES plugs about every six hours. (It may wind up being the 7/16" missing from the exhaust because you'll note I'm burning 2.5 GPH).
In summary, I'm obviously proud of my Quickie and love to fly it. I think the Rotax 447 is the best engine for the Quickie but I was not aware of the crankshaft problems noted in QUICKTALK. I noticed you have an excellent picture of 3VD in QUICKTALK Issue #25 (Jan./Feb. '86) on page 9 lower left.
Dear Jim,
Recently I fitted a Tillotson carb to my Onan to get rid of a bad flat spot when revving up. It worked wonders, the best that engine has performed, but it seems some more cylinder head studs are yielding and as Onan engines or even parts are not available here, I think I should quit while it is still going and fit the popular Rotax which is readily available in Australia.
Fitting a different type engine in an airframe is a first here in South Australia (most likely ALL Australia), and you have no idea of the red tape. The bureaucrats must have made 100 phone calls all over Australia, but now they have started they don't want to stop, but also don't know what to do next. They agree the Onan is not the best and the Rotax is certified in some 2 place ultralights in this country, however, our chief bureaucratic engineer would like to have some evidence of safe flying from 5 or 6 Rotax powered Quickies in the USA or Canada. Could you make a plea on my behalf to fellows who have done the conversion? I'd pay postage, etc. Write"
Gordon Laubsch, P. O. Box 15, Kapunda 5372, South Australia
Ed Miller sent me pictures of his conversion and that along with your write up in QUICKTALK has been a great help convincing our fellows that it is possible. In fact they think Ed did a very good job and it is now up to me to do as good as Ed.
Gordon Laubsch - VH-LQI, Kapuna, So. Australia
(ED. NOTE: Now, Gordon, for those of us with access to Onans can you tell us the model Tillotson and any tricks you found installing and tuning it?)
---
You can order a PDF or printed copy of Q-talk #2 by using the Q-talk Back Issue Order Page.