Q-talk 1 - Q-2 NEWS
Details

Category: Q-Talk Articles
Published: Saturday, 28 February 1987 06:11
Written by Jim Masal
Hits: 2436
Dear Jim,
I made an error in my haste to submit a method to establish a one-degree landing gear toe-out. The CORRECT method to locate the center for the new outside axle holes is to measure 7/16" AFT from the FORWARD edge of the old axle hole and drill the new 5/8" diameter hole.
Fred Wemmering, Fayetteville, NC
Dear Jim,
I can say that the newsletter was the biggest single factor in my return to rebuilding my Q-2 after letting it sit in the garage for three years following two ground handling incidents during taxi testing and a move to Alaska which required removing both wings. I will go over my notes to see what I might have to send you, although nearly everything that I've done differently has been in response to information in the newsletter.
As far as my airplane, N120JT, #2099, is concerned, I am close to completing a substantial rebuild involving conversion to a Tri-Q with belly board (newsletter item), addition of reflexer (newsletter item), T-tail from LeGare, new baffles, cylinder shrouds and air inlets per Revmaster (newsletter item), and sliding canopy per Scott Swing. I hope to be in the air by late spring or early summer.
I am including a copy of a letter from Scott concerning the current status of his operation. Some months ago he also wrote about working on a Mazda rotary for Q-2s. I believe it involved one-half of an RX-7 motor, but he doesn't mention it here. I will write to him and ask about it.
I am also including the full information about cylinder shrouds from Revmaster. This was previously mentioned in the newsletter as being available from them, so I stopped in to see them when I was in southern California in September. They are located right at the airport in Hesperia, which is just on the south edge of the Mojave Desert northeast of Los Angeles. Their building is on the north side of the runway, at the eastern end. I hope they have gotten a larger sign however as I didn't see it when I went past, and the people running the airport motel and coffee shop didn't know who they were. They are happy to send anyone a set of full size templates, which were a good fit on my engine. Some small modifications of the Quickie baffling is done but it is minor.
Tom O'Grady, #2099/N120JT
UPDATE: TRI Q DEVELOPMENT CO. (Courtesy Tom O'Grady): TQD has sold 90 kits, sales are slow, and Scott will be starting another job shortly. TQD is NOT closing and Scott Swing WILL continue to be available to support his customers, though with less ease. You can leave messages at (513) 890-1925 or call him at home, late and sparingly at (513) 233-2205.
Dear Jim,
I flew my Tri-Q200 N2GQ for the first time Aug. 30 '86. After adjustments, especially trim, it has turned out to be a wonderful flying aircraft. Swing's nose gear mod was certainly worth the effort. I had this plane ready to fly as a taildragger, but after taxiing quite a bit I would not fly it. Too wiggly.
I have the carbon spar canard and the aileron reflexor, which is great. I can use it to center the elevators in level flight. I also installed a spring-loaded, adjustable roll trim on the ailerons. Using elevator adjustment for roll trim just messed up my landings. Now N2GQ lands like a normal airplane and I can fly hands off.
The first airport I landed at other than my base at Redlands, CA was Big Bear, CA at 6,750 feet. I was up to 11,000' today. I have a Terra TXN 760 with glidescope, DG, a vacuum horizon, electric turn coordinator, 4 cyl exhaust temp., 4 cyl. head temp., alternator tach., starter, strobe and nav. lights, etc. Antennas are installed for dual navcoms, transponder, etc.
Everybody comments that NGQ is a beautiful aircraft. It is white with gold speed stripes. My 0-200 engine is excellent and has always had Amsoil in it.
Glen Kuhlman, Highland, CA
Dear Jim,
N33LQ, my Tri-Q, is still going strong. I have about 60 hours on it now with no major problems. I thought I had a cooling problem (high CHT), but it was only the fuel mixture. The 2 right hand cylinders are running lean and the 2 lefts are rich. I am going to replace the intake manifold to see if this solves the problem.
At present we have five Q-2's in flying status at Springfield Regional Airport. Three of these are Tri-Q's and all three have the anhedral in the canard. We have a ball doing loose formation flying, formation takeoffs and landings, flying to different airports for coffee and hangar talk. The Q-2 is a fun-fun airplane, and the Tri-gear makes it a pussy cat on the ground.
Here are some numbers on N33LQ: Revmaster 2100DQ, 64 hp. with Warnke almost-constant-speed prop.
| | |
| --- | --- |
|   | Static rpm - 2900 |
|   | Takeoff rpm - 3200 |
|   | Full throttle - 3300 (level flight), 160 mph ind. |
|   | Cruise - 2800 and 140 mph. indicated |
|   | Lift off - 70 mph |
|   | Touchdown - 75 mph |
|   | Cruise - est. 1000 fpm at 100 mph with 180 lb. pilot |
All rpm readings were made with a photo-tach. Don't believe the Westach supplied with the kit. Also make sure you are getting a minimum of 2800 static before flight. See you at Sun 'N Fun.
James Langley, Republic, MO
Dear Jim,
One of the most refreshing experiences I had at Oshkosh this year was talking to several Q-Bird owners who had flown in and had little but PRAISE and ENTHUSIASM for their airplanes. It proves to me that if built EXACTLY according to plans, and flown carefully by current pilots with experience in 200 mph, high performance machines, the Q-2/200 can be an enjoyable aircraft. It has certainly given my project a renewed boost.
Lynn Faulkner, Manlius, NY
Dear Jim,
I must admit that I am discouraged reading some of the flight reports. There is an interesting lack of correlation between flying experience and landing problems. I can only conclude that the Q-2 is extremely sensitive to small variations in some key parameters. A design that is highly sensitive is not really suited for a homebuilder's market. I have the uncomfortable feeling that good flying Q-2's are that way only through a chance combination of dimensions, angles, etc. Well, in a few months, I'll see if I have the right combination.
Manny Lewis, Scotia, NY
Dear Jim,
I have just purchased a wrecked Q-2, G-BKSK, built by Sullivan and Searle in England. It suffered an engine failure, and the subsequent forced landing broke the canard and the tail. The engine failure was due to the main jet needle retaining screw on the Stromberg carb coming loose, allowing the needle to drop into the jet resulting in a full lean cut. I would strongly suggest that anyone using the Stromberg Loc-tite the retaining screw. Please do not think I am implying any fault or that the failure lies with the Limbach. It failed due to a maintenance problem. The Limbach is an excellent engine with a fine record in Europe. This one is for sale if anyone is interested.
I am familiar with composites, having built a Long-EZ (G-WILY) and intend to rebuild this as a Q-200. Where can I get 0-200 installation plans, engine mounts and exhaust, new canard plans and carbon spar and plans for belly brake and forward hinged canopy?
Bill Allen, Hayden Hill House, Cheltenham, Gloucestershire GL51 7PA England
Jim,
WARNING, these ideas have NOT been flight tested (please don't revoke my membership).
Brakes - here's a possible solution to brake problems that I came up with after talking to Leon Jones of Huntington Beach, CA who IS flying with something similar. He said plans-built brakes tended to grab. The theory is this: the plans brake caliper is mounted way off to the side of where the disc is. So, as the caliper begins to grip the disc, the forces tend to twist the caliper (pivoting from the mounting point), causing the brakes to grab. Mounting the caliper from directly behind the disc would avoid torquing the caliper or its mounting system.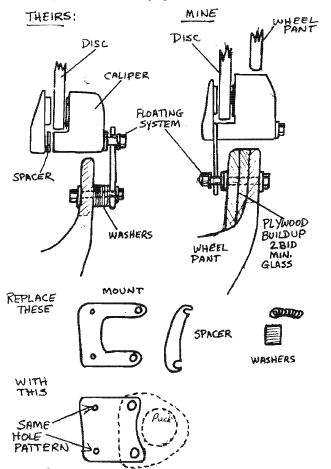 I simply replaced the metal spacer in the caliper with a stainless steel plate of the same thickness and extended it out to the rear where I mounted it to a glassed plywood buildup with a floating setup like the plans show, and using the same holes as per plans.
Leon may have mounted the plate solid and created a floating setup right in the caliper "directly behind the disc", but he has a machine shop and may have gotten quite fancy (Leon Jones, [714] 848-8001). Mine is not mounted directly behind the disc, but the forces will certainly be lined up better than with the plans method.
Mike Peay, Provo, UT
From Alan McFarland, #2742, Spokane, WA
The project is going well again, though I sure have my ups and downs. Sad to hear Quickie is no more, but with all that has been happening, it wasn't a surprise or shock. Gene helped me a lot, and WELL. I'd like to say THANKS. If you are listening, Gene, why not open up a phone line to answer questions. I'd be happy to pay by the call.
LIQUID FIREWALL - It was a bit confusing figuring out how to get started. First the hardener had dried out. Air Spruce now supplies it at $15 for 2 oz. (good for 1 qt., a Q2). The whole kit cost $100. And who makes it may be one of the best kept secrets in the industry.
I didn't want to spray it (no spray equipment and feared over-spray), but those I consulted preferred spraying. Well I brushed it on and it worked well ... well let's say it worked. I had called Air Spruce, who called the unknown manufacturer, who said that it could be painted. 7 to 15 mils thick (I think) was their recommendation. I convinced myself that a quart was the right amount. So here goes (as I did it or would do it again):
Sand well and remove grease. Construct a simple open-bottomed plastic tent over the firewall area that a heater can be placed inside. Buy 6 - 2" foam brushes. Mix up one cup of firewall. Paint onto firewall, exhaust, and 2 spots on the cowl (exhaust gets within 1/8" on my Q-200). Bit like frosting a cake (very light pressure). Switch to new brush if old one gets limp (bristle brushes don't work). One cup down. Dry overnight at 100?. Don't get spots to hot yet.
Next day (still a bit wet) apply 1-1/2 cups (again slopped on with 2 brushes very gently). Dry two days at 100?. Spray most of a can of VHT 1350 on the firewall (more need for exhaust). One more day at 120?. And ... it is pretty much dry. And no the drying time seems to be normal (new hardener, a full 2 oz., a friends took this long too). I'd do it this way again.
STARTER - I've got a manual pull starter on my Q-200 (no solenoid). The firewall is in the way for the lever, so I redesigned the lever (see drawing). I will pull my new lever with a T-handle cable and step on a truck type floor switch mounted to the back of the firewall accessory box. The T-handle pull mounts in the upper-right-center-panel-subsection, goes forward thru the top-right firewall, loops over the engine near the hoist point, is phenoliced to the left-upper engine mount, and finally back into the accessory box. I took the starter apart to discover that the pinion that engages the gear spins and that is has an overrun on it. The idea is implemented, but yet untested.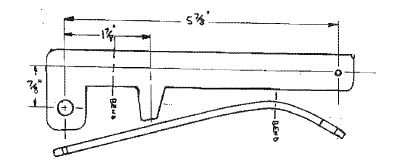 MAGS - Bendix mags are bigger than Slick mags and will not fit into the mag box as designed (Q-200). It must be enlarged by making it a bit taller and wider on those top 45? sides. Gene says 1/4" clearance is enough.
PAINT - I painted it myself with Dupont Centari. It is NOT very chip resistant. I don't really know the problem, but had I to do it again, I'd consider a courser sandpaper (my auto paint store had recommended courser), I'd degrease first a bit better, and I might put on a bit more paint (I was pretty light for weight reasons). Sorry, but I don't remember any of the numbers. By the way, I painted my car first for practice.
WHEELS - Just finished this one. Where the standoff mounts to the wheel with 3 bolts, a washer each is required so the thing seats without a wobble. Way back when, I mounted the calipers slightly different than the plans to make sure the puck completely overlapped the disk (otherwise might bind with wear). I used an extra 90? elbow at the caliper (total of 2) to get the angle right for the hydraulic line, which runs inside the wheel pant (routing is unlike the plans, though approved in conversation with Quickie). I bought little inserts to go inside the hydraulic lines at the location of each attachment (Air Spruce #2030-4 called Tube Insert which they say is used on Long-EZ). Finally, about a 1/4" of electrical tap wrapped around each axle bolt 1" from each end will keep it center in axle.
CONTROL STICK, TRIM & REFLEXER - I've spent a long time concentrating on the area near the front of the center console. It's tricky as so much passes thru. Think I've got mine working. The stick-elevator linkage is first and must be low. The trim wheel is second and should be as far back as possible (for more grip on the wheel), yet high enough to miss the control linkage. The rudder cables should run high and as close to the sides of the console as possible so as not to interfere. The mass balance is on the pilots right side, bent a bit to the right to miss the rudder cables, which by the way go to the engine box. My rudder pedals mount to a 2" x 12" x 1/4" piece of glassed plywood (dimensions approx.), which in turn, attached to another piece of wood glassed to the canard that has bolts protruding from the top of it for mounting the pedals. The result is removable rudder pedals (and not having to put them in long before there was any chance of knowing where they would go).
I mounted my reflexer control pretty much as per plans though positioned to the right side (with space for the rudder cable to pass outside) of the console and forward of the control stick, just before the console takes its 25? bend up (I thought it would get in the way behind the control stick). Also the sense of it is wrong to me. I think that pushing it down should lower the tail, which would be the same sense as the trim wheel. Do I have the sense of it wrong, as the plans say down should be down reflex (meaning down ailerons?) which means up tail (509-747-7250 or S. 604 Jefferson #4, Spokane, WA 99204)? I know the factory plane originally had the control mounted quite differently.
IF YOU HAVE THE TIME TO DO IT OVER AGAIN THEN YOU HAD THE TIME TO DO IT RIGHT THE FIRST TIME ... A thought to ponder.
Hi Jim,
Tri-Q200 Hints: Double check your seatback for the correct distance to the firewall on both sides. I found mine to be 3/4" shorter on the right side, which would have made my landing gear skewed 3/4". I corrected the mistake by moving the vertical plywood insert forward on the long side and backward on the short side. Both sides measure 53.3" now.
Jack Dempsey, Rayne, LA
Jim,
I was to take my Q-2, N2390V to the Greater Washington Airport last Nov '86, but encountered a fuel leak in my forward tank that turned out to require a major repair. A tank should be checked after installation. I waited too long.
Bus Schuckler, North East, MD
Dear Jim,
Here's a Tri-Q hint: The new bulkheads (small plywood pieces in the seatback, and the new one) are not "level" or perpendicular to a waterline. The bolts for the gear are parallel to the fuselage bottom (which slopes up), and the bulkheads are perpendicular to the bolts and fuse. The plans do state "perpendicular" to the fuselage bottom, but the drawings don't make it clear unless you read this sentence carefully. And in case you are wondering, I put mine in level (wrong, but my fuse is still in jigs and everything else is level...), and it took some shenanigans with a drill press and tapered aluminum washers and longer bolts to make it all work. Other than my boo boo, the Tri-Q kit has been excellent, both in plans and materials.
Danal Estes, Arlington, TX
---
You can order a PDF or printed copy of Q-talk #1 by using the Q-talk Back Issue Order Page.