QuickTalk 2 - BLACKBOARD
Details

Category: Q-Talk Articles
Published: Sunday, 28 February 1982 06:11
Written by Jim Masal
Hits: 1912
From Alden Johnson, #2553
"I made a lobster pot form by slotting three templates and filling the slots with 1/4" thick, 2" wide hardboard strip. The form was attached with 5-minute epoxy and fiberglassing was routine."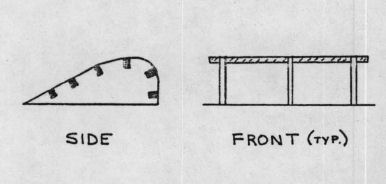 From Manny Lewis, #2394
"Build a jig from five duplicate fuel tank templates. After glassing outside, let cure and turn it over. Fit it into an inverse pair of templates to glass the inside."
---
You can order a PDF or printed copy of QuickTalk #2 by using the Q-talk Back Issue Order Page.