QuickTalk 2 - PILOT PROFILE
Details

Category: Q-Talk Articles
Published: Sunday, 28 February 1982 06:11
Written by Jim Masal
Hits: 1566
(Last issue we showed a classy cockpit showing plenty of walnut veneer inlays. We also alluded to a so-called Quickie 1-1/2. The builder of this ship is Don Owens of Bedford, Texas, a designee of EAA Chapter 34 and also builder of a fine looking Vari-Eze. Don's second craft is a Quickie look-alike known as a Dolphin, one of a pair soon to be flying in the Dallas-Ft. Worth area.)
Don and another experienced builder were fascinated by the Quickie, but as often happens with experienced builders, they did a little dreaming about how they could make it to suit their needs. For example, they felt shoulder room was a little tight so they wanted 4" more width; they felt the cowling was a little too pug-nosed and preferred a more P-51 look; more instrumentation and radio room as well as a tape deck. Last, they wanted to save money so it would have to be built from scratch. They got all this and more but not without facing quite a few challenges.
Making any change from plans (especially major) causes the domino effect to emerge (redesign one part and more other parts have to be modified also). Not a job to be tackled by the inexperienced, impatient or ill equipped. Don says the key is to anticipate the effect of each change before you launch into it. Think it out carefully and you'll still get surprises. The Dolphin is four inches wider at the seatback, but two inches narrower at the firewall than a Quickie. The Dolphin airframe is finished inside and out but currently awaiting installation of a derated 55-hp VW engine which should cruise the 440 lb. ship at 175 mph. A whole new cowling was designed and built for the VW and all controls were balanced for the higher cruise speed. The fuel system includes a 10-gallon main tank with an electric pump continuously filling a 5-quart header tank located over the main wing with overflow going back to the main. The ship has five inch Cleveland wheels with 1-1/4" axles and scrubber brakes. It also incorporates the Vari-Eze pitch trim and electric roll trim as well as an electric Westach fuel gauge.
Regarding scratch-building an otherwise kit project, Don said it is very helpful to have access to parts for getting dimensions not specified in the plans. Building two projects at once was economical in time if not always in dollars. Most components were bought through Aircraft Spruce and other out-of-state mailers to save on local taxes as well as the gas and time involved in chasing around for parts. Shipping costs were minimal compared to these.
N41WS was completed in November 1981 after 13 months of steady building. Although it still awaits an engine before flying (anybody want to buy a Vari-Eze?), it is an interesting project from many aspects and we will let you know of flight characteristics after initial testing. - JM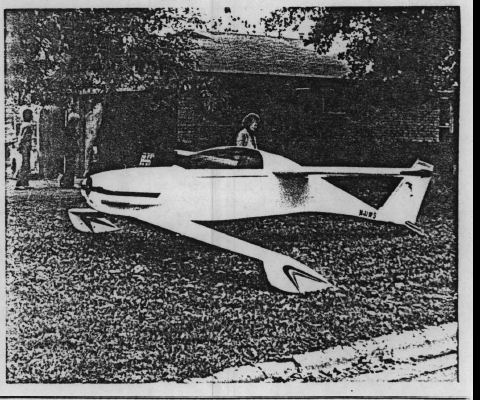 ---
You can order a PDF or printed copy of QuickTalk #2 by using the Q-talk Back Issue Order Page.