Q-talk 80 - CLASSIFIEDS
Details

Category: Q-Talk Articles
Published: Monday, 28 February 2000 06:11
Written by Tom Moore
Hits: 2696
A current QBA member may have one free ad per month. It may be a maximum of five lines of type and will be edited to fit space available. Items advertised must be owned by the QBA member. The ad contact must be a member name. Ads will be run for TWO issues and then the ad must be resubmitted.
FOR SALE: Fully wired instrument panel for a Q2/Q200. Hobbs, needle ball, altimeter, VSI, O-220 A/S, Terra Tri NAV/COM, Narco AT-50 Xpndr, Tach, CHT/EGT gauge, Ammeter, Oil temp, Oil Pres., Warning lights, fuses, two eyeball vents. $1,995. Contact This email address is being protected from spambots. You need JavaScript enabled to view it.
FOR SALE: One Quart of Liquid Firewall. $25 covers S&H. Contact Bud Starnes, 5114 Hartmann Rd., Mt. Vernon, IN 47620, 812-985-2527 or e-mail n l This email address is being protected from spambots. You need JavaScript enabled to view it.
FOR SALE: Q-200 kit airplane, less engine and epoxy (went bad after about a year). Kit cost was $10,017 in 1984. The kit is zero percent completed. Will consider all offers. Call Rich Smith at 503-251-1032 or e-mail at This email address is being protected from spambots. You need JavaScript enabled to view it.
FOR SALE: Q-200, 690 TTAF&E, Terra 720 COM/NAV, Mode C, strobes, EGT, CHT, MP, new prop & key starter, 170 MPH. Excellent condition. $16,500. Houston, TX, 281-293-2491. This email address is being protected from spambots. You need JavaScript enabled to view it.
FOR SALE: CARBON FIBER SPARS - new, $500. Contact Kimbull McAndrew 403-254-2883, e-mail This email address is being protected from spambots. You need JavaScript enabled to view it.
FOR SALE: Zero time Formula Power Subaru. Best of the Best. Balance to 1 gm. Ported and relieved and flowed heads. Truck block. Contact Bruce Brown 504-395-7289.
WANTED: Photo copy of Quickie Q-1 owner's manual. Will pay costs and postage. Call Glenn 603-745-5005 or e-mail me at This email address is being protected from spambots. You need JavaScript enabled to view it.
FOR SALE: Complete (new) QAC hydraulic disc brake kit. Includes tires, tubes, wheels and mounting hardware, $200. Tailwheel, axle, QTW 5, 3 and M1 spring bracket and spring $100. Frank 770-978-2403 or e-mail at This email address is being protected from spambots. You need JavaScript enabled to view it.
FOR SALE: Tri-Q Zero time AF & Revmaster engine. FAA inspected & approved, LS1 canard, reflexor, Matco brakes, tinted canopy. Stored in Seattle, primed 100 hours to refinish. $7K. 281-244-4835 wk, 281-993-0981 hm This email address is being protected from spambots. You need JavaScript enabled to view it.
FOR SALE: TRI-Q-200 (Q-TALK issue #69) O-200 engine, 748 hrs SMO, 3 blade warp drive prop, Collins Micro-line, IFR panel, oil filter, reflexor. $21,500. Jimmy @ 956-546-4541, Marvin @ 956-381-2782, or Marvin e-mail This email address is being protected from spambots. You need JavaScript enabled to view it.
WANTED: Q200 kit - the more original the better. No engine required. Wing cores, carbon spars and canopy a must. Kit is required in UK so you must be prepared to crate it and ship it. Ian Molesworth, Tango4 Consulting, Intnl +44 411 378 562, UK 0411 378 562
FOR SALE: Q2 taildragger, Revmaster Q2, per plans. Major construction complete, wing and (LS1) canard are attached. Revmaster w/RevFlow carb, 0-time with vacuum pump (no pulley) also mounted. Firewall sheet metal mounted. Instrument panel with A/S, Alt., VSI, Vertical Compass, T&B, and AI. Oil Temp, Oil Pressure, Suction, EGT, CHT and OEM Tach. Whelen strobe, Wheels and brakes installed. Landing lights in wheel pants. Dual rudders. Dual fuel pumps. Fuel system complete. Partial surface finishing complete. Engine & panel mount, final assembly and paint to finish. Photos and building logs included. Also includes some worktables and extra hardware. $7900. Ormond Beach (Daytona) FL. Contact Kurt Van Dyke 904-676-7987
The QBA T-shirts with the image seen below are now available. The image appears over the left breast. The Quickie is colored RED and the lettering is black on a white Hanes BEEFY-T that is 100% pre-shrunk cotton. They come in sizes M, L, XL. The cost is $10 per T-shirt plus $3 for shipping. Add $1 shipping for Canada and $2 for international.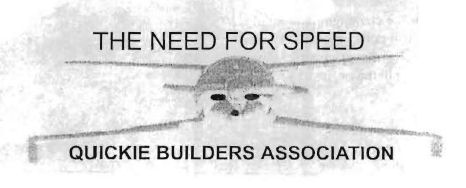 ---
You can order a PDF or printed copy of Q-talk #80 by using the Q-talk Back Issue Order Page.