{flv}Xplane_Q1{/flv}
For sale here is a Single Seat Quickie I created for X-plane 9.20 and up.
I believe this is the first Single Seat Quickie created for X-plane 9 and I am very pleased with the results. Terry Crouch was kind enough to allow me to model this after his own flying example. I modeled the paint scheme and instrument panel on his plane based on photos I found on the internet. I can't say absolutely that this perfectly matches the flying characteristics of Terry's Quickie, but I can say for sure that it is a real fun plane to fly!
However, please note that, because of the unique landing gear arrangement on the Quickie taildragger, you'll need a pretty good video card and high computer processor speed in order for X-plane to figure out what to do on the ground with this plane! If you're on the ground and bouncing all over the place, you'll need to reduce the rendering options in X-plane to ensure a higher frame rate. Ideally, you'll need a frame rate above 40 fps to get good ground handling.
I hope you enjoy this Single Seat Quickie and X-plane! I will be updating this plane as I receive feedback from users. (Whenever I get a few "spare moments.") LOL!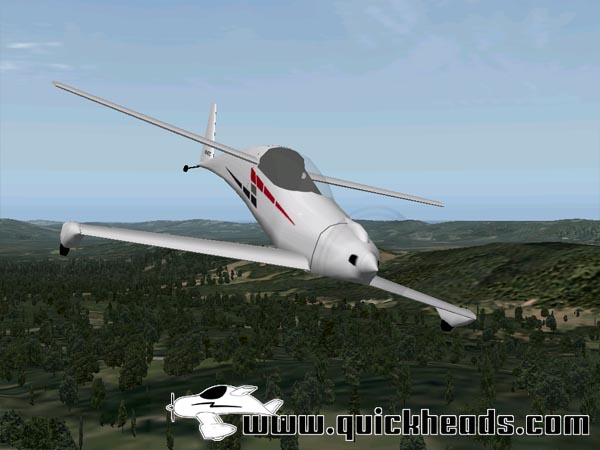 By the way, if you don't currently have a copy of X-plane Version 9 you can save yourself a few bucks by buying a used copy on Amazon.com
You can find the Windows version here
.
Or the MAC version here
.