Q-Talk 167 - Airventure 2014 - QBA Forum
Details

Category: Q-Talk Articles
Published: Friday, 31 October 2014 17:06
Written by D Michael Bergen
Hits: 8953
Quickie Builders Association AirVenture Meeting
31 July 2014 - Homebuilders HQ Porch
By Mike Bergen
Baltimore, MD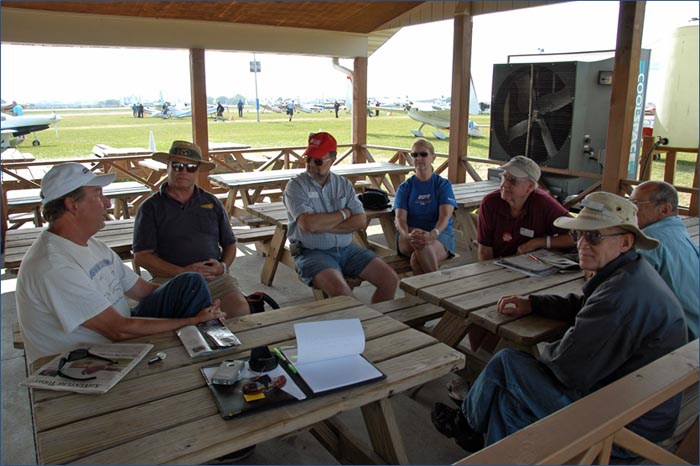 I led the meeting and although I was twenty minutes late, three QBA members had already engaged in a general discussion. The following people attended:
Terry Crouch, Bettendorf, IA - Still flying his Quickie with about 900 hours on it.
Hardey McDaniel - Marion IN - Hardey came to the meeting last year as well. Q1, N87HN and Q2, N95LR. He talked of pegging the tailwheel on his Q2 to restrict the movement because of a ground loop after a recent flight. His Q2 has the Jim-Bob Six-Pack mods that include the full swivel tail wheel. He bought a 40x40 foot hangar and is waiting on some parts from Richard Kaczmarek to get flying again.
Dave Peterson, Blaine, MN. Has a Q1, N35DP. Still interested in electric propulsion as reported last year.
Paul and Tama Fisher, Taylor Ridge, IL - Q200, N17PF, 1,500 hours since 1990. Still flying the Quickie and is flying an RV as well.
Jim DeBower has one of the first Quickie Q1's. It has been sitting in stored condition for several years with the canard exposed to sunlight. He is in repair mode and tackling a gas leak. He was concerned about UV degradation to the exposed end of the canard and so he conducted a static load test with the addition of 1700 lbs of sandbags to failure. He is going to build a new canard and is motivated to get it flying again. He is currently having fun flying a Weed Hopper ultralight.
I (Mike Bergen), Baltimore, MD flew my 1960 M35 Bonanza into AirVenture and plan to attend FOD. Still working on the Q200 after 30 years. Completed the new composite engine baffle/plenum and I'm working on mounting the cowl.
Barry Weber built a Q200, N189BW, and sold it to a Canadian man in Las Vegas. Three months later the new owner ground wrecked it.
I provided an update on Richard Kaczmarek's battle with illness last year and his move to South Carolina. He is getting reestablished and will be providing parts again. He has found a reliable heat treat facility and has met the quality assurance check.
I went on to support Richard's claims. He delivered Imrann Faruque's Tri-Q nose gear and it passed the 3-G drop test that Imraan conducted following its reinstallation to the Quickie.
I told everyone that I communicated with Sam Hoskins prior to my trip out and he indicated that he would not be at AirVenture unless he was able to race. He wasn't quite ready.
Toward the end of the meeting it was a real pleasure to see Norm Howell appear at the Homebuilder's Porch. Norm built a Q1, N17UQ, in 1989 when he was in college at 19 years old. He went on to pursue a U.S. Air Force career as a pilot and has since landed a job as a test pilot. He claims that the build and test flying of the Quickie was very instrumental in opening doors throughout his flying career. The aircraft is now owned by Nelson Ham in Newton, MA. Norm now owns and flies an Aerostar.
I provided a reminder for Field of Dreams in Orange, MA, the last weekend in September. Terry and Paul said they would try to plan for it. Their plan is to swing by and meet with Sanjay so they can all fly to FOD together. I testified to the great host that Dave Dugas was last year and the fine job done on the local cuisine.