QUICKIE NEWSLETTER 6 page 1
Details

Category: QAC Newsletters
Published: Friday, 23 June 2006 00:06
Written by Quickie Aircraft Corporation
Hits: 3485
QUICKIE NEWSLETTER

No. 6

October 1979

Published quarterly (Jan, Apr, Jly, Oct) by

Quickie Aircraft Corporation
Post Office Box 786
Mojave, CA 93501
805-824-4313

Newsletter Subscription (1 yr.)*
Information Package (2nd edition)*
Pilot's Manual*
Quickie Construction Plans**

$6.00
$6.00
$8.00
$150.00

*Add $1.00 for Air Mail overseas(U.S. funds)
**TO be used with Quickie Aircraft Kit. Also, purchasers of the plans are entitled to a $150.00 discount on the purchase price of a Quickie Aircraft Kit. California residents should add 6% state sales tax.

.....Quickie Aircraft Corporation is located on the east end of the flight line at the Mojave Airport, Mojave, California, which is approximately 80 miles north of Los Angeles. You are welcome to come by to see N77Q, the Quickie prototype, to ask questions, or to bring in parts of your Quickie for inspection. The building number is 68.
.....We are normally open from 9 to 5 on Tuesday thru Saturday, but you should call first if you are coming from far away, since we occasionally must close the office to attend a flyin, conduct business, etc.
..... Tom or Gene will be available to answer general inquiries from 1:00 to 5:00 on Tuesday and Thursday, and from 9:00 to 5:00 on Saturday. We would prefer that builders call us with questions at these same times. All times are PST.
..... Weather permitting, each Saturday at 10:00 we will give a flight demonstration with the Quickie.
.....When writing to QAC, always send a stamped self-addressed envelope along if a reply is necessary.

SUMMARY OF ACTIVITIES
.....As we go to the printers with this newsletter, 12 Quickies are flying, and another eight to ten are at the finishing stage.
.....The 1979 Oshkosh Flyin has been completed. We again flew N77Q there; a total of three Quickies were able to attend.
.....Final testing has been completed on the low-toxicity Safe-T-Pox epoxy system, and it is being phased into Quickie Kit production.
.....We will hold a Quickie Construction Seminar over the Thanksgiving weekend again this year.
.....Testing on the Oman engine modification, continues.
.....Additional inventory has been acquired and most backorders have been filled.
TWELVE QUICKIES FLYING
.....Quickie fever has caught on; there are currently 12 QuickieS flying, plus another eight to ten that are finishing and painting.
.....In the next newsletter, we plan to list the names of all Quickie builders who have reported first flights.
.....Doug Swanningson's aircraft is one of those to make first flight recently. Instead of making the first hop himself, Doug called on Steve Wittman, a veteran pilot and one of the early supporters of the homebuilt aircraft movement. After flying Doug's Quickie, Steve had the following remarks, "I flew it a half-hour and took it up to 3,000 feet and it performed real well. For a plane of its type, it performed damn well." A local newspaper reported on Steve's first attempt at a stall, "Wittman stalled the wing at 3,000 feet and the plane oscillated back and forth, just like the manufacturer said it would. 'The nose dips a little,' says Wittman, 'but it doesn't go into a spin and it pulls into a glide again. Its a nice little airplane."
.....The
Builder Tips
section this month includes suggestions resulting from the early flights of these homebuilt Quickies.
QUICKIE CONSTRUCTION SEMINARS
.....Again this year, we are going to have a Quickie Construction Seminar at Mojave over the Thanksgiving weekend. The date will be 24 November, 1979. A flight demonstration will be given at 10:00. Lunch will follow, and the construction seminar will run from 12:00 to 5:00. The seminar will be a joint venture with Rutan Aircraft Factory.
.....The purpose of this seminar is to educate builders and potential builders in the skills and techniques used in sandwich composite aircraft construction such as the Quickie and VariEze. Although anyone interested is encouraged to attend, builders will be given preference for the seats in the front half of the room.
.....Last year over 300 people attended. This year, we are asking that you phone or write if you plan to attend. Please include the number in your party. It would also help if you would bring your own chairs.
.....For lunch, we will try to arrange with the airport cafe for service.
.....We will prepare a list of motels in the area for those of you are traveling far. Contact QAC for the list.
.....We do not expect time to permit us to give a series of seminars in 1980 such as we did in the summer of 1979. Therefore, we encourage all interested parties to attend if practical.
.....Also, for any of you who would like to pick up your Quickie Kits at the seminar, we must have the receipt of the order no later than 12 November.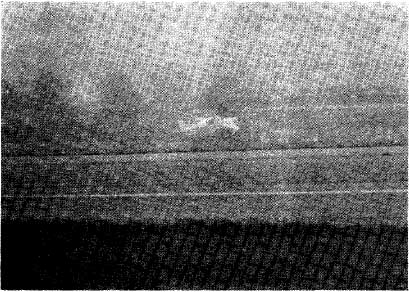 Robert McFarland lifts off for the first time in his Quickie on 1 September, 1979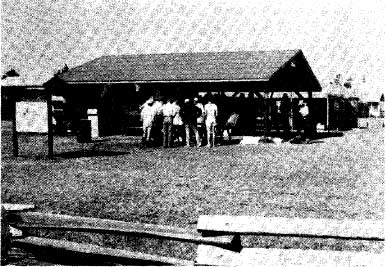 This is the Quickie Workshop at Oshkosh at 7:00 in the morning; normally, attendance ran 100-150 people throughout the day.
1