QUICKIE NEWSLETTER 3 page 1
Details

Category: QAC Newsletters
Published: Wednesday, 14 June 2006 00:06
Written by Quickie Aircraft Corporation
Hits: 3701
QUICKIE NEWSLETTER

No. 3

January 1979

Published quarterly (Jan, Apr, Jly, Oct) by

Quickie Aircraft Corporation
Post Office Box 786
Mojave, CA 93501
805-824-4313

Newsletter Subscription (1 yr.)*
Information Package (2nd edition)*
Pilot's Manual*
Quickie Construction Plans**

$6.00
$6.00
$8.00
$150.00

*Add $1.00 for Air Mail overseas(U.S. funds)
**TO be used with Quickie Aircraft Kit. Also, purchasers of the plans are entitled to a $150.00 discount on the purchase price of a Quickie Aircraft Kit. California residents should add 6% state sales tax.

.....Quickie Aircraft Corporation is located on the east end of the flight line at the Mojave airport, Mojave, California, which is approximately 80 miles north of Los Angeles. You are welcome to come by to see N77Q, the Quickie prototype, to ask questions, or to bring in parts of your Quickie for inspection. The building number is 68.
.....We are normally open from 9 to 5 on Tuesday thru Saturday, but you should call first if you are coming from far away, since we occasionally must close the office to attend a flyin, conduct business, etc.
..... Weather permitting, each Saturday at 10:00 we will give a flight demonstration with the Quickie.
.....When writing to QAC, always send a stamped self-addressed envelope along if a reply is necessary.

QUICKIE SEMINAR
..... On Saturday, November 25, 1978 a joint Quickie/VariEze seminar and flight demonstration was held at the Mojave, California airport.
.....Over 500 people watched flight demonstrations by the Quickie, VariEze, VariViggen, and Defiant. Later, about 300 people attended the five hour seminar which featured information on building and inspecting Quickies and VariEzes.
.....We were very pleased with the turnout, and received many favorable comments from Quickie builders that attended,that the seminar really helped them to understand the methods used in building and inspecting a composite aircraft like the Quickie.
.....As a result of the Mojave seminar, we are planning to do a few more during 1979.
QUICKIE ON COVER OF MECHANIX ILLUSTRATED
.....The January, 1979 issue of Mechanix Illustrated has a rather familiar object on the cover — a Quickie.
.....Inside you will find a pilot report by Wayne Thoms, their west coast editor. In addition, there are some beautiful color detail shots of N77Q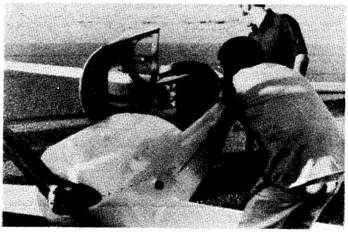 Bob Hoover, world tamous airshow pilot, after completing his checkout in the Quickie in front of the Mojave Air Race audience. (Yes, he did roll the Quickie in front of the crowd) Bob pronounced the flight ". . .absolutely delightful."
1979 QUICKIE TOUR OF U.S.
.....We are tentively planning on taking the Quickie around the country in April or May to conduct a series of seminars and flight demonstrations. It is surprising how many people still do not believe what an 18 h.p. Quickie will do, so we want to show them again. We will try to coordinate with local EAA chapters and local Quickie builders to let everyone know, as well as announcing it in our April Newsletter. If someone in your area would be interested in sponsoring such an affair, please have them contact us.
.....The reason that we are waiting until April or May is threefold:
| | |
| --- | --- |
| 1. | The weather back EAST will be warming up. |
| 2. | Several Quickie builders will be flying. |
| 3. | Production of Quickie Kits will have smoothed out, allowing Gene and Tom to spend a month circling the country. |
| | |
1